China New Year Calender Change or Just Lies?
China became the worlds biggest trading nation in 2012 taking over from the postwar dominance of the USA. That being said, the USA is still the biggest importer. The markets were given a lift last week when this Goliath of a trader released January Import/Export data. Year on Year Exports were up 25% and Imports were up 28.8%. Wow! That is impressive. Of course, if that were the case, its trading partners would be reflecting this surge in their own trade figures. Lets look at the biggest economies in the world as it is only they who could have enough capacity in production and demand to facilitate this huge surge. The USA December, Year on Year, trade data showed a 1.18%% decline in imports (Oil a factor) and a 4% gain in Exports. January has not shown signs of exploding into activity with Inter modal Freight costs weaker and only a 1.97% increase in BNSF freight traffic. Japan has released data for the first 20 days of January showing a 0.57% decline in Year on Year trade. South Korea did eventually report a stronger January trade picture (contrary to the first 20 days decline) but this was only around 10%. February will see a big contraction as the extra working days in January will be lost in the February holiday this year.
Whilst the USA is still by far the biggest nation economy at nearly twice that of its nearest rival China, the European Union in its entirety is the bigger still. If trade with the worlds biggest nations is at best +1-2% in January, then to reconcile China's huge surge in activity, Europe must be off to a fly-er in 2013! Well, to confirm my expectations for  Suez Canal trade in China is Ly`ing blog, total cargo (x energy) through the canal was down 10.64% vs January 2012. That's a very large decline in historic terms as can be seen in Chart 2. Whats more, the fall in Southbound (Mainly to Asia) cargo was more pronounced at 15.7%. How on earth can China have such a huge surge in international economic activity when the largest trading nations say otherwise. One must not forget that the Canal data is volume not value of goods, nether the less I am sure even in value terms trade is weaker.
Chart 1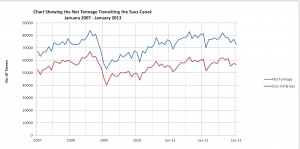 Chart 2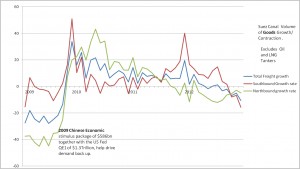 Chart 3
Shows the volume growth/Decline in Container traffic. The January decline (Southbound) is the fourth in a row, the first time this has happened since the trade collapse of 2008/9. Whats more staggering is the extent of the decline at 12.3%. As I have stated in previous blogs, Containers tend to more indicative of finished good and therefore consumer activity.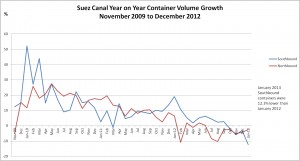 Given all this evidence, how on earth can the official Chinese data be correct. Lets not forget the implications on the Transportation sector. Both by Sea and Land, this fall in volume has a significant affect capacity utilisation. Bigger ships are exacerbating the overcapacity of ships with total shipping volume through the canal falling quicker than cargo volume. As for land transportation, I did roughly calculate the decline in truck loads hauled but I have lost the fag packet. I know it was 100,000`s. Regular readers will know I have been negative on the truck industry for all 2012. Given the recent warnings from the two big players Daimler/Man/Scania and Volvo my concerns are bearing fruit. I believe that the industry still has far too much production capacity and further painful cuts will come.
Volvo needs to split itself into two or three global business groups. With Caterpillar (Construction machinery)  diversifying into mining machinery with fresh acquisitions, Volvo`s own construction machinery business looks under resourced and uncompetitive. Volvo needs to merge its construction machinery business with Atlas Copco and perhaps its Marine business with Wartsila of Finland.
Chart 4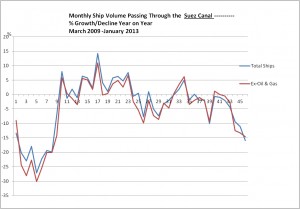 I guess its about time I updated the story on AP Moeller-Maersk and the shipping industry as a whole. The Baltic Freight Index is continuing to wallow at historic lows leaving the shipping industry with a revenue shortfall which cannot last much longer. With new build prices being quoted significantly lower it is possible second hand values may themselves plumb new depths. Any further decline in the pricing structure would significantly reduce the valuations of the big fleet owners, unless of course, you believe that the world economy is on the verge of a significant upswing. Almost to a man the big investment banks have recently upgraded APM-Maersk so I guess I am a fool.
Leave a comment
You must be logged in to post a comment.
Categories
Posts by Date
August 2020
M
T
W
T
F
S
S
« Feb
1
2
3
4
5
6
7
8
9
10
11
12
13
14
15
16
17
18
19
20
21
22
23
24
25
26
27
28
29
30
31
Blogroll