Journalist Conundrum.
I am at a loss as to what all the Financial Journalists do all day. I have read so many articles recently perplexing over the disconnect between employment growth and GDP weakness. Perhaps if they looked at the data they could start to understand what is going on. Admittedly, I am applying my own reasoning to come up with my conclusion but it is still better than just scratching your head as these hacks are doing. Almost to a man they are all saying that GDP must be understated. I of course have my own idea.
Between September 2012 and September 2011 542,000 employees have joined the nations payroll which now totals 31.946m. As you can see from the chart below Income Tax paid to the revenue over the last year has barely changed. Adjusted for wage growth, it has not changed since 2010. Interestingly despite record numbers in work and total hours close to record, national output has barely changed since 2010.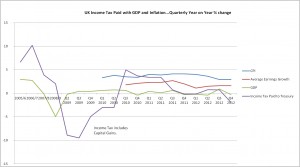 I believe two things are at play. One, many of those joining employment from the unemployed register, were already working. Secondly, and as I first warned of in February 2012, the quality of jobs being created is very poor. As you can see form the comparison from September last year, employment has been primarily in the service sector. Wholesale/Retail jobs have blossomed but Coffee shops an economy do not make. I am aware that many large retailers are favouring employing workers on 20 hour weeks. This gives the employee far less rights and in most cases keeps the employees salary below the tax threshold. So, two poor quality jobs (c £7.50 per hour) are created for every position, neither of them pay tax but will still be needing social support. The rise in transport/storage probably relates to the growth in Internet shopping.
The primary reason for me being very negative about the UK Budget Deficit and my three month warning to George Osborne (blog 23 December 2012) is clearly identified in the data box at the foot of the page. Since 1997 there has been a structural change to the UK economy. We have an additional 1.7m Public Servants (Health 1.1m Education 0.65m) but Manufacturing has 1.674m less employees. The gain in Admin/Support worries me that Red tape has created many of these posts. All in all, the Blair/Brown years were really a massive shift in the dynamism of the UK economy. Public Servants now account for 26% of the workforce as opposed to 17% in 1997. The reality is that this figure when compared to points in history is much higher. Over the last 20 years Central and Local Government have been outsourcing many tasks. The growth in Admin/Support and Professional advisers is no doubt influenced by this process. With that in mind, I guess the Public Sector activities account for over 30% of the economy. Go back even further prior to the Privatisation of Utilities, Telecoms etc and the the comparisons are even worse. If you throw in all those working on Government Infrastructure projects, it is possible to say that over half the working population are paid from the Public purse. Whilst the Property/Debt boom were in full swing, tax revenues were growing rapidly. Now that bubble has burst, the only way this Public Sector involvement is achieved, given our low level of real private sector output, is to borrow more money. This cannot go on forever. Spending has to be cut drastically.
George Osborne pledged to get the economy back on a more balanced footing. Sadly, he has wasted the first two (and most important) years in office. Last year Public Servants only declined by 0.61% (51,000). Meanwhile, very highly paid jobs in the Finance sector (which helped finance this crazy shift in employment) have been dropping sharply for 12 months. With bonus payments being slashed or deferred via a greater proportion of share payout, the January tax hump may be very disappointing.The Budget Deficit has grown in fiscal 2012/13 (to date) and sadly is getting no help from the employment figures.
The UK Office for National Statistics breaks down employment into two categories. Services and Productive.  It is then broken down into 19 sub sections which includes three for public services which I have combined. To try and get a handle on why Income Tax paid to the Treasury is not keeping pace with employment and earnings growth we have to look at the data in detail. The latest data available is to September 2012. Below is the change in percentage terms and actual numbers since September 2011
Productive (6 sub sections  As a group, this category is down 10,000 employees. …Agriculture/Fisheries -9.21% -39.000. Mining/Quarrying +19.67% +12,000.  Manufacturing +2.98% +75,000. Electric/Gas Supply -5.75%  -8,000. Water/Sewerage +7.98% +15,000. Construction -3.21% -66,000.
Services (11 sub sections)..As a group, this category is up 532,000 employees  …Wholesale/Retail +1.40% +67,000. Transport/Storage +4.30% +63,000. Hotels/Catering +6.48% +130,000. Information/Comms +4.90% +60,000. Finance/Insurance +0.27% +3,000. Real Estate +7.71% +32,000.  Prof/Tech/Scientific +5.38% +131,000. Admin/Support Services +5.92 +145,000. Arts/ Entertainment n/c. Other Service -4.17% -38,000. Public Services -0.61% -51,000.
Employment in the biggest sectors.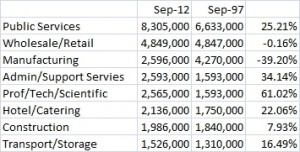 Leave a comment
You must be logged in to post a comment.
Categories
Posts by Date
April 2020
M
T
W
T
F
S
S
« Feb
1
2
3
4
5
6
7
8
9
10
11
12
13
14
15
16
17
18
19
20
21
22
23
24
25
26
27
28
29
30
Blogroll