Finance-Reaper returns..with a warning!
It has been a couple of months since my last blog (holidays and a large landscaping project to occupy me) so I think a refresher as to where we are in the global economy. During my absence the equity market has rallied strongly on the perceived wisdom that the Central Banks of USA, Europe (inc UK), China and Japan will breath new life into a flagging world with yet more monetary stimulus. The problem is, they have done this so many times over the past 30 years that it reminds me of Brazil 20 years ago. They took anti-biotics as a cure for all ills so became immune and many people died when a common illness struck. The repeated intervention of the primary banking authorities has given governments and investors alike, a laisse faire attitude to debt and risk. I believe the time has come, just as it did for the Brazilians, when the world needs to take a different medicine and it wont taste very nice.
Since my last postings several important developments have occurred in the areas I have had great concern about.
Steel and Iron Ore are of particular interest. Both have fallen around 25% in the last month and are now at 2 and 2 1/2 year lows respectively. Over production of Steel in China is becoming a real problem which will have repercussions around the world. Inventory of finished material is getting to a point where serious cuts in production will be required. As the main raw material (Iron Ore) is also stockpiled to the roof, it will not take long for further setbacks in the Shipping industry that supplies China (see my numerous blogs on the subject for more info). The main barometer of how this is affecting the shipping industry is the Baltic Freight Index. This has fallen 9% in the last week, 30% since early July and more importantly, is 40% below this time last year. Shipbuilding orders have fallen off a cliff, shipping companies are going broke and mining companies are cutting back on capital expenditure. All things I have warned about. China is now relaxing some high quality steel export duties in order to help the vast production machine from backing up. This, together with encouragement for a weaker Yuan, makes the outlook for the other global players very grim.
As you can see from the chart below, a regular feature, global trade is not growing. If anything it has started to decline. Last months tonnage was down on 2011 and lower than the corresponding period in 2008!
Of course, the primary driver of this weaker picture is Europe as the chart below highlights perfectly. What you have to worry about though, is when will the first and third biggest economies of the world grow up and realise they cannot continue growing the debt pile and calling it economic growth. IT IS NOT!!! USA will register its forth in a row $1 trillion annual budget deficit this year. It has to stop and the fiscal cliff of 2013 is rapidly approaching.   Japan has agreed this week to double VAT to 10% but in two stages and not starting till 2014. I believe Japan is only months away from economic disaster (see previous blogs).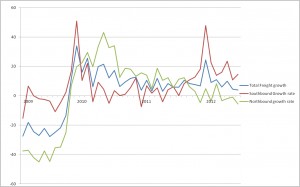 Europe.
Finished! The recent cuts (to the public sector and spending ) announced by the Italian government were shocking but necessary. They reflect the bloated system of the easy money life encouraged within the Euro arena by the non elected bureaucrats in Brussels. It applies to all the lying, cheating Mediterranean countries. I still believe Germany should be out of the Euro The Elephant in the Room.
UK
Finished! How on earth can the markets not see what is right under their nose. The UK budget deficit is not shrinking! It is getting bigger. Just like the USA and Japan, we are borrowing growth from a future generation with our continual debt build up. You can see from my numerous blogs on the UK that I have warned about Sterling strong vs the Euro and Weak vs the Dollar. As I predicted our trade deficit posted a record deficit in the second quarter. STERLING is doomed. I have predicted a fall vs the $ to the all time low of $1.08 and stand by that. The chart formation from the last blog is still in tact. Should Sterling fall as I have predicted, interest rates will go higher and the stupid banks who are rushing headlong into lending on Buy-to-Let (BTL) mortgages will come a cropper yet again. Just last week saw the release of data showing an alarming growth in repossessions of BTL properties. Property prices are still 10-20% too high.
Another issue that worries me is the estimate of UK car sales that are pre-registered. In fact I wrote about this issue in a recent China blog. According to reports, 30% of recent UK car sales are not actually ordered by an end buyer (the same as Germany). They are pre-reg by a dealer in order to secure large volume bonuses. This practice is not new but the scale of this practice is now alarming me. Why? Residual Value. Do any of you remember one of the largest and best known corporate collapses of the 1980`s. British and Commonwealth Holdings was the birth place of such companies as Gartmore and Oppenheimer fund management, Furness Withy and P& O shipping…plus many other big names. It was the biggest financial institution in the UK outside the four banks and was in the FTSE 100. It made one fatal error in the acquisition of Atlantic Computers. The problem of residual value was to be the undoing of B & C. I wont go into the story but if dealers are buying far too many vehicles than they have customers for, they have to sell at a whopping discount in other ways. This tends to be via a lease. Normally, to price a lease you have to make an assumption of residual value. The creation of demand via this process normally creates a wave of second hand cars which will depress prices further. If demand slows as I believe it will, second hand values and therefore residual values will not meet the estimated level when these cars come to an end. A worrying future bill bill for someone.
 USA
Below is my regular chart showing the growth/decline of transported goods on Warren Buffett`s railway BNSF. The Total Freight picture is running at around 2% the highest since the first quarter. Still very anemic and not strong enough to indicate employment growth. The various sectors of interest are Motor Vehicles which have started to decline and the four week moving average (not shown) indicates a rapid fall from current levels. Lumber/Sand/Gravel are positive and reflect optimism in the real estate sector. Coal has rebounded from its winter blues and helped move Freight Wagons into a slight positive. Overall not much to conclude. Steady as she goes for now but wait till we get to the Fiscal Cliff.  I have written about the US sales to inventory ratio and recently it started to rise. This is not a good sign, as I have talked about in March. I have to admit to being wrong about the growth in US car sales. It has turned out to be much stronger that I anticipated. I feel very strongly that this growth is temporary and is driven (excuse the pun) by a desperate urge to cut motoring costs via fuel consumption and is therefore not going to last beyond this year. Last month saw an 89% rise in alternative fuel vehicles. The big US car companies may well be heading back to the doldrums in the second half.
One of my other pet subjects has been in the news lately. The US Postal Service. Its ever growing problems and huge loss profile show just how inept the government are about dealing with real problems. Anyone can spend public money and be triumphant at its impact but no one seems to be able to grasp a nettle. The longer the authorities go on kicking the can the deeper the eventual depression will be.
Stay happy and start making plans for the new world. Hopefully, when we get to the other side of all this we will remember the mistakes of the past. There again why did they repeal the Glass-Steagall Act. Fear and Greed will always rule the world. And we mere mortals will always allow Greedy and Corrupt people to rule us, Why?
BNSF Weekly railway data.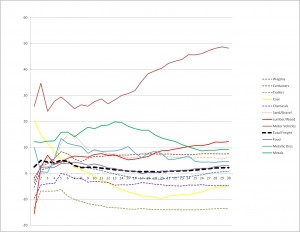 Blogs to follow.
UK Money Supply is still falling, I have reviewed this problem in depth before. UK and US Govt. debt growth. Chart updates of BHP, AP Moeller-Maersk, £/$ rate. Maybe a look at the safest haven for savings in the world, Norway. It has Oil, Fresh Water, Fish and a sensible government policy of saving a portion of its oil wealth for future generations. It may become the lender of last resort should the world go belly up. I have championed this safe haven for a couple of years and I cannot see any reason why that should change. They do have a problem however, of where to put their money. I would offer this once customer of mine some timely advice. In times of trouble IT IS NOT THE RETURN ON YOUR MONEY THAT COUNTS, IT IS THE RETURN OF YOUR MONEY! So do not worry about interest income in this environment. Keep it under your mattress and cuddle up to the nearest blonde. It may be lumpy but it will give you a warm feeling, the mattress that is.
Leave a comment
You must be logged in to post a comment.
Categories
Posts by Date
August 2020
M
T
W
T
F
S
S
« Feb
1
2
3
4
5
6
7
8
9
10
11
12
13
14
15
16
17
18
19
20
21
22
23
24
25
26
27
28
29
30
31
Blogroll