BNSF Weekly rail shipments.
Regular readers will know that I have relied on this data to give a view of the economy. Transportation is the most important bellweather for economic activity. New readers might want to view an earlier blog The Perfect Storm for an overview. The updated chart (click to enlarge) does not really add much to last update in early May. Motor vehicles continue the trend but  metals growth is weaken as imported vehicles improve market share. Lumber confirms the stronger demand from the housing sector. Total freight shows no sighs of altering its lacklustre, low growth position. The significant year on year decline in coal movement is coming to an end as this was driven by both lower gas prices and warm winter weather. The rest of the year should stabilise at lower levels but not adversely affect Total Freight as in Q1 and 2. I have talked about my Jim Thorpe concerns for the coal industry and its suppliers on several occasions so it was interesting to see Caterpillar mention (this week) the slowdown in demand from that segment of their business. Sadly things will get far worse. If you look at the inventory build up in the worlds biggest coal user (China) you will understand why I am so negative. It is not only coal that is piling up, the products that need huge energy imput to produce are also building. Steel production will have to be cut drastically in the Q3 if a price implosion is to be avoided. This may support steel prices but the knock on affects to Coal, Iron Ore and many other commodities (not to mention Shipping) will be significant. Interestingly, new car inventory at Chinese dealerships is building rapidly. Sales data are registered when delivered to the dealer, so, with inventory as high as 60 days sales on the forecourt, the only response will be heavy discounting. Going forward this will weaken demand.
Shipping is never far from my blogs so I will not disappoint. Europe/Asia container route pricing by the World Container Index has fallen for each of the last five weeks and is eroding the rate increases forced through by the big carriers. The weakening Baltic Index is confirming the growing level of inventory of dry bulk commodities. I hope to have an update on the regular Suez Canal data next week, that is if I can get a good Internet signal in Tenerife. Happy days!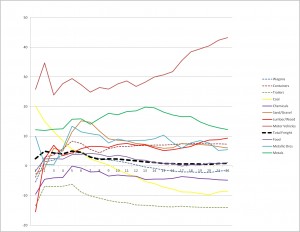 Leave a comment
You must be logged in to post a comment.
Categories
Posts by Date
August 2020
M
T
W
T
F
S
S
« Feb
1
2
3
4
5
6
7
8
9
10
11
12
13
14
15
16
17
18
19
20
21
22
23
24
25
26
27
28
29
30
31
Blogroll