The building block of life.
BRICs and Steel part 1 was published late January. Since then, shares in the sector (STEEL) have fallen between 20-30%. The attached charts of ArcelorMittal (World No1 player) and US Steel show the stocks on major support lines. I am not a professional technician (only a lowly landscape gardener/designer) but the 200 day moving average crossed below the 100 day average  on the downside.  I guess it warns of a total failure in the share price. However, having seen a significant pullback to date and trading in the support area, I am not going to suggest a collapse. What I will say is that if you are in the recovery camp and believe that the central banks can add sufficient economic stimulus, then this would be a good time to buy. Of course, anyone familiar with my blogs on the heavy industries will be aware that I believe that the huge over capacity will prevail for many years. China will try and export its way out of a growing inventory position. Its steel makers are producing at a breakeven cost. The only way steel makers can elicit some profit is for the Chinese government to ease monetary policy at a breakneck pace (not going to happen until inflation is under control) or Iron Ore prices fall. Iron Ore faces three significant headwinds. First, demand. Yes I hear you! New car sales in the USA are growing rapidly but do me a favour. Go and calculate the weight of 14 million cars in 1995 and then weigh the estimated 14 million cars of 2012. I bet 2012 weighs 20-30 less. Construction is still growing in China but at a slower pace. Shipbuilding orders are collapsing. European overall steel demand? Car sales falling rapidly whilst countries like Spain who built 800,000 properties in the boom will have only 60,000 in 2012 (see also Ireland… Never was a slik purse!) Second, recycling. Per ton prices for ships going to the knackers yard are falling due to too many ships and not enough beaches. Recycled steel generally needs no Iron Ore. Third, Inventory. As I have highlighted on several occasions, inventory is at record levels. Yes I know production of steel is at record levels but demand is not keeping up. A recent report by Hexun indicated that 500 of the total 1600 Chinese shipbuilders will close in 2012 (reference my blogs on Shipping).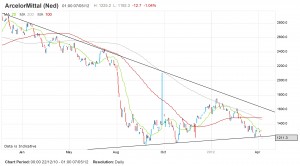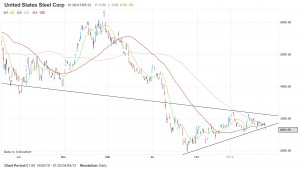 The BRIC nations plus Australia have boomed with the price of Iron Ore. As the chart shows, from sub $20 to $200 in 10 years. I believe the current price of $145 is vulnerable to a further 10-20% pullback. How the large producers Vale, BHP, Rio Tinto and Fortescue handle this scenario is anyones guess. Cost reductions via a curtailment of machinery/transportation investment may be the result. Since the BRIC and Steel blog Joy Global has fallen 30% with the more diverse Caterpillar down 16%. I am of the belief that the mining stocks still have a lot of downside. Shipping stocks have fallen around 25% (ex AP MoellerMaersk only -12%). If Iron Ore demand weakens, they are all vulnerable as to are the banks that have direct debt exposure (see previous blogs).  Lets not forget Coal, another important factor in Steel production. Maybe fracking and a decline in Steel demand will lead to more towns like Jim Thorpe which at one time had more millionaires than any other town. I have stayed there and whitewater rafted in the nearby river. Lovely place!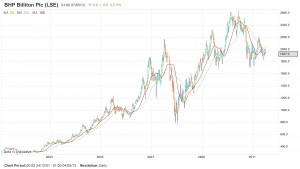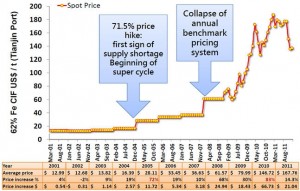 Leave a comment
You must be logged in to post a comment.
Categories
Posts by Date
August 2020
M
T
W
T
F
S
S
« Feb
1
2
3
4
5
6
7
8
9
10
11
12
13
14
15
16
17
18
19
20
21
22
23
24
25
26
27
28
29
30
31
Blogroll