I have reactivated Finance Reaper for a one off post to help shareholders of this company see the upward momentum and support which has been building since its low point around 20p in April of 2020.
The background to this company is very interesting. Having raised great hopes in the last decade in the energy sector, it is now totally unrecognisable, having gone through a complete metamorphosis, including name changes, to create the animal you see today. Investors need to know that this is, as with any investment, not without risk. You only need to ask the private, long term, long suffering, shareholders.
Infrastrata today is full of potential, just like a young child. It has, through numerous acquisitions, transformed itself into an old world engineering company which also has, should a license be granted, a potentially significant cash generative underground (under sea) gas, hydrogen storage facility.
Amongst the companies assets are two unique, historic, ship yards. It must be said that all previous owners of these yards have gone bankrupt or closed them due to losses. Harland and Wolff, better known for building the Titanic, along with Appledore, another historic builder of naval and commercial vessels, have between them been at the heart of our shipbuilding heritage. Sadly, poor government vision, reckless unions and far east cheap labour, all paid their part in the sectors demise. By investing in this company, you are saying that I believe we have finally realised the value of these industries to our communities, our economy and most of all to the country as a whole. These two facilities offer not only the second largest dry dock in Europe but the largest covered dry dock in the UK. The UK government has pledged to re-balance the economy by making significant regional investments. This, with their significant uplift in Defense spending, should bring very lucrative naval work to the companies yards.
Alongside shipbuilding, the asset base of acquisitions puts the company at the forefront of the green energy sector with capabilities to manufacture a range of products in the offshore wind sector. Fabrication sites are now strategically placed both in Scotland, Northern Ireland and South West England. The recent round of auctioning vast offshore areas around the UK saw eye watering bids accepted to develop the east, west and  northern seas surrounding our shores. Once Covid is out of the way, I believe things will start happening.
As mentioned earlier, the company has applied for a license to create an underground gas storage facility. This is proposed in an offshore location at the north east coast of County Antrim, Northern Ireland, between the towns of Larne and Carrickfergus. Islandmagee Energy, a wholly owned subsidiary, was first established in 2010. The sub sea layer of salt at a depth of 1500m is deemed ideal for the storage of gases. The total planned gas storage capacity would help secure the UK against future power shocks especially given its future reliance on un-predictable wind. It would add around 15-20 of the total (or planned) national storage capability. It truly is a national asset. Currently, the long winded decision on the facility is with the UKs Irish Minister. The Nth Irish environment department has held extensive public consultations over the last two years. The result of which, along with all the scientific evidence, was handed to the minister on March 31st this year. We await his decision.
Ongoing business has seen several cruise and ferry lines utilising the facilities at H and W for service and repair. Whilst this generates some cash flow, it has proved insufficient to build the organisation from an almost standing start. This has led to several cash calls on shareholders which have been, by and large, well received. The lack of concrete, large scale, business contracts makes that tolerance a little less guaranteed should another round of investment be required. If it were linked to confirmation of one of the long awaited projects, I am sure many Institutional shareholders would start to crowd out the private shareholders with premium priced interest. One shipbuilding contract is in the pipeline, subject once again to confirmation. In December last year, the company signed a Letter of Intent (LOI) with Triumph Subsea Services Ltd, to build two Windfarm Development Vessels, each of 200 metres in length. The LOI stated that it hoped by June this year, it would be possible to proceed with a formal agreement which would result in business worth in excess of £500m. Of course, it must be remembered that a LOI is only that. It is not binding on either party, therefore little value has, or indeed should be, reflected in the current share price.
With a £35million share capital, it is quite clear that should one or indeed several of these opportunities come to fruition, very significant Earnings Per Share (EPS) influences would be brought to bear on the share price. It would not be difficult to expect 100-200% share price increase. Of course, should things not turn out the way the company has positioned, they will fall on wayside as all the other previous owners of these yards have done. I am happy to put up with the risk as nothing ventured, nothing gained.
Below is the chart of recent share price action. As you can see, support is building and the support line is ascending. The resistance, short term, needs a close above 42p. It would take a close above 52p to confirm the big, big move is underway. Happy hunting.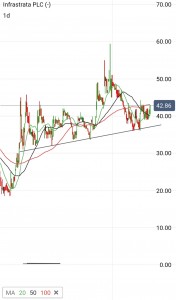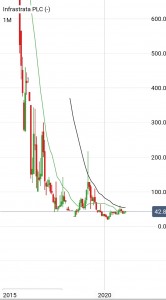 Leave a comment
You must be logged in to post a comment.
Categories
Posts by Date
October 2021
M
T
W
T
F
S
S
« Apr
1
2
3
4
5
6
7
8
9
10
11
12
13
14
15
16
17
18
19
20
21
22
23
24
25
26
27
28
29
30
31
Blogroll