The UK is one giant PONZI scheme….STERLING WILL RE-TEST £/$ 1.08….ITS HISTORIC LOW.
I have been considering this post for a long while. I have written on many occasions how the political leaders of this once great nation have systematically, over the last 40 years, dismantled our strong financial position. Making short term decisions which resonated with the electorate have caused the very fibre of society to be diminished. I will attempt to keep this as short as possible but as you can imagine, calling the destruction of the once biggest manufacturing nation in the world cannot be just a few lines.
First up, consistency. I am not like all those highly paid economists in the City. I have a long term interpretation of economics and stick to it. In January 2015 I wrote "Sterling Crisis Looms" …The post examined the history of our trade relationship with the world. It is easy to see that even with a strong economy and a positive trading balance  it was still possible to have a currency weakening against another. In 1948 we had a trade surplus of 10% of GDP. This was no match for the soon to be biggest economy in the world. The management of our finances over the last 20 years has been nothing short of a disaster (see second chart)…this coupled with our ever growing trade deficit in goods and you get the picture as to why I still believe that Sterling is heading down. Overseas investors have been happy to buy UK assets to park money in a supposedly safe haven. Chinese, Russian, Greek…you name it they have all been desperate to get money out of their own countries.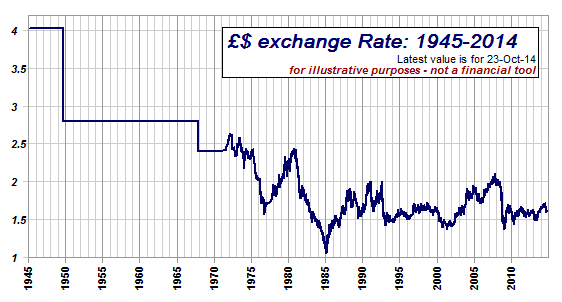 As you can see. The trajectory of our debt profile has taken on an ugly look. Admittedly, very high inflation following the Middle East Oil shock of the 1970s did not help. Nevertheless, the picture is grim…what's more, where the chart below finished in 2010/11…..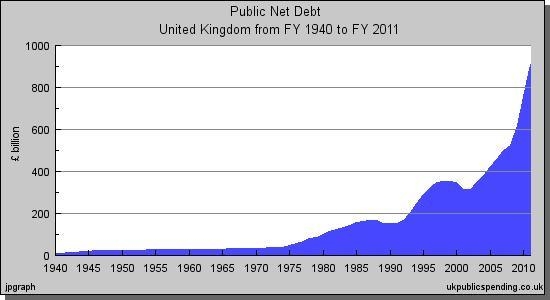 This one picks up the pace somewhat. You can see that austerity is just a figment of George Osborne's imagination. The annual deficit for fiscal 2015/16 will come in around £75-80bn. That's quite a staggering sum in itself despite Mr Osborne claiming he has done much to get it down from the staggering deficits post the financial crash. A more sobering thought might be to consider that the TOTAL DEBT ACCUMALATED by this country from the birth of the Bank of England (1694) to the turn of the 21st century was around £350bn..not bad…In 15 years the UK has borrowed, during a low inflation period, around 350% of the previous 306 years…ok, inflation has greatly exaggerated the maths but you need to be shocked to understand.
The UK debt growth does not stand out as particularly different to many developed nations. Indeed, the USA has similar profile of state debt to GDP from the 1960s. Its what has been done to both undermine our countries underlying value and to quantify its quality of service now. Lets break those three things down. First, our underlying value as a nation. Think of the UK as a company balance sheet. Our assets, from the Thatcher era onwards have been stripped and continue to be stripped. Once publicly owned assets such as Energy Retail (Gas/Elec.), Post Office (incl. BT), Water, Banks/Savings, Housing (Social), Energy Wholesale, Transport (Rail/Busses), Land…the list is endless both here in the UK but also overseas (assets). These would normally be found on the assets page of our balance sheet. Not any more. The selling of assets is continuing with this government. Basically, if its not nailed down, its got to be considered. Now look back at the second chart and ask why has debt ballooned so much whilst our governments have been harvesting billions from the sale of public assets. THATS not even the finish of it…no, there is one more important fact that we must not overlook. Since North Sea Oil started flowing in the early 1970s governments have enjoyed a bounty of riches, both direct (tax) and indirect (jobs, investment) of around £ 1 TRILLION…that's my estimate. Now that the oil is rapidly running out and our kitty of assets to sell easily is wearing thin. How can any government continue to run our economy without a serious change in our overall spending.
Economists will say that the important thing is to look at overall debt to GDP and the governments spending as a % of GDP. Yes, they are right…to a degree. But, what if that GDP number were not a true reflection of a nations long term output potential? I will explain why that is exactly the case later.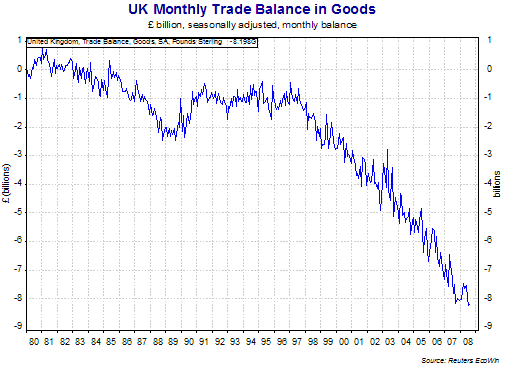 If you listen to any socialist, they will tell you that Mrs Thatcher killed manufacturing in the UK. OK, maybe she did allow many basket case, poorly run, investment starved big companies go to the wall but you can see from the chart above things got worse after Blair 1997. The Labour government saw manufacturing jobs of around 1.5 million disappear whilst adding roughly that number to our public services. This reminds me of a fantastic TV interview by Sir Kenneth Cork (world renown insolvency accountant who formed Cork Gully…now Coopers and Lybrand) with Harold Macmillan. I remember it to this day. I was only a young man but both men were so full of wisdom the memory is fresh with me. Macmillan was asked to explain the success and subsequent fall of the British economy. He put up his ten fingers on the grainy black and white TV. He said that in a strong economy, seven people must have a productive influence whilst it leaves the remaining three to service the country. He went on to explain that the balance had shifted whereby the percentage of the population involved in servicing the needs of our people had risen far to high and our trade balance and hence wealth, were starting to deteriorate. Since then it has been easier for politicians to spend found money (Oil or Assets) to keep the country moving rather than concerning themselves with Macmillan's simple but honest explanation. manufacturing accounts for 11% of our economy today vs 25% in 1980.
The chart above shows how the trade picture is not improving globally but interestingly, the EU is the main problem. This is because Germany HIDES IN THE WEAK CURRENCY in order to be the worlds greatest exporter. It knew that re-unification (with East Germany) was going to be painful. Not least with a strong Deutsche Mark. So being in a currency with a basket of economically corrupt countries suits them just fine. The chart below highlights just how important the UK is to industrial production in the EU. The recent Deutsche Bank report stating that Europe would suffer badly if the UK pulled out, is spot on. To further exacerbate my concern, our deficit in Oil trade has remained remarkably stable at around £750m per month. I worry that the high cost of production in the north sea will see that deficit begin to increase if oil prices remain below $40. The chart below highlights our ten biggest trade partners performance (Deficit/Surplus) in the 3 months to November 2015.
None of that explains completely why I believe the UK is a Ponzi or why I expect £/$ to re-test its all time low of 1.08. The real explanation is quality of quantity. I refer to the economy. Yes, growth during the Osborne years has been good. Unemployment has shocked many commentators with its significant decline. Despite all that, I still believe our economy is based on unsound foundations. Just like the Gordon Brown, Mr Osborne continually looks for ways of bringing forward taxes or cash flows whilst delaying costs. The PFI debacle is just one example. I will not elaborate as it is a well documented disaster. Changes to pension laws is one way of bringing forward consumption (taxes). Allowing people over the age of 55 to release pensions… was sold as giving people more flexibility. Total hogwash. It was so the government could continue with the consumer economy. By inflating the housing market, just as previous chancellors, the ball continues to roll. Only, we are now getting close to a point where the whole basis of our economy is so overpriced that it will become out of reach for an entire generation, as the chart below shows.
But this does not reflect the whole story. For it is not the ratio of prices to earnings which is the primary importance. It is the level of disposable income. Whilst the ratio of the governments tax take to GDP has not exploded, the demands of households has materialised in other ways. I f we were to take a ratio of disposable earnings to house prices, things would look a far lot worse.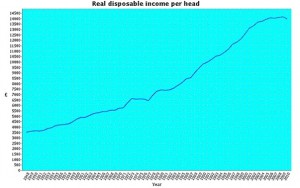 Whilst the tax take ratios have not been pushed too high. You need to look at the fact that the government is doing less and less, for free, than it did in the past, hence, far more services are requiring a fee. The quality of the services they do provide has deteriorated beyond all recognition. For instance, the elderly. The state had significant institutions to house our elderly. They would receive round the clock supervision and care. The problem is, the local authorities could not afford the £32 per hour cost of staffing our the upkeep of the buildings. Once again, we saw a harvest of assets by selling off the building to developers whilst farming our elderly out to the private sector. The problem is, the authorities are only prepared to pay around £16 per hour and hence the private companies are increasingly relying on cheap overseas labour. This is a total dis-service to our elderly but reduces the cost to the state. This has happened in all public services. Police/Fire stations have been closed wholesale. Hospitals and care facilities (mental health etc) have reduced significantly. One only needs to look at the size of our Navy to recognise that, yes, we are still taxng our people but they are getting less and less for that money. So many previously free services are now subject to fees. Additionally, councils are encouraged to raise money by any means which has seen regressive cuts to disposable incomes such as parking costs. The list is endless. This government is aware more than any about the importance of the LAFFER CURVE. That is why, rather than tax at a higher ratio of GDP, they just keep reducing what they give in return for taxation and make you pay out of your disposable or post tax monies.
The economy has grown since the turn of the century but the quality of that growth is very negative for the future. Our ability to supply our own industrial and economic needs has deteriorated. Instead, rising housing prices driven by mass immigration has maintained a level of wealth for most families. As I have suggested, the elasticity of that mirage must be close to breaking point. With official immigration around 350,000 per annum (500,000 unofficially) and personal and public debt expanding sharply, how can an economy not grow. The problem is, sustainability. Within those official population statistics is the sorry tale of professional people eg GPs, leaving in their droves. The really worrying element of Osbornes claim of austerity is central government staff costs. These have grown from £94bn when he first took office but are now £105bn…
If our budget deficit is to be brought under control, surplus, it is the spending side of the equation that needs seriously addressing. Looking at the revenue it is clear the intention to bring in more from indirect tax as early as the radical changes of 1979. VAT was doubled to 15% in order to reduce direct income tax rates, both basic and top end. The problem is, whilst indirect taxes have kept coming, VAT now 20% Air Travel and Insurance Premiums 1994, Landfill 1996, Climate 2001, Aggregates 2002 etc the real position of Income tax has become more onerous. Whereas in 1979 only 2.6% of workers were paying higher taxation, 16% now pay it. Not because salaries have grown excessively but because of fiscal drag. A measure whereby chancellors do not increase the tax bands as salaries/inflation moves higher. The problem of hiding our taxation by stealth is it is very regressive and affects those that can least afford it. Because we have allowed our Manufacturing/Engineering/Scientific ability to decay, employment is centred around service related sector.  Average take home pay has not kept pace with either house prices or the cost of living in general. To allow this to continue, whilst still harvest taxation, it has been important for the government to give expensive, in work related, tax benefits whilst encouraging the public to join the government in piling on yet more debt. It cannot and will not last. Yes, changes in the form of UNIVERSAL CREDIT are coming but with 5 million people claiming housing benefit, at a cost of around £23bn, it will have repercussions.
The ring-fenced spending by the government will ultimately be where the strain of austerity will fall. Our overseas aid is maintained at 0.7 of GDP whilst our spending on Scientific Research (which is known to repay with economic benefits at around 6 to 1) is nearer 0.4%. The major nations of the world have  overseas aid around 0.4% and Scientific Research close to 0.9%. Spending on the EU has cost us far more than just the annual contributions. Interestingly, we recently had to pay an extra £2.4bn because the calculation by which the EU gauges the size of your economy, VAT receipts, showed we were far stronger than our counterparts. I have a real problem with this primarily as it is well known that the black economy of some countries, especially Mediterranean, can be as high as 50%.
To sum up..our tax revenue is far too focused on the house price/Debt timebomb…Fuel Duty at the pump £27bn….Housing Stamp Duty £11bn…VAT £130bn…Whilst our spending on services is being cut to the bone. The chancellor has been the primary beneficiary of low interest rates with our national debt costing less (£45bn in interest) now at £1.5trn  than it did when it was £1trn. Of course, offsetting that is the savings of the thrifty who now get next to nothing but more importantly, the pension industry. The current deficit of the public sector pension scheme is estimated to be around £1.6trn. We pay out around £10bn in pensions each year more than we receive in contributions.
If you add our recognised government debt and then add all the other liabilities eg PFI, Pensions etc…our economy has been living on borrowed time and money for far too long. The Oil is nearly gone (x fracking) the low hanging fruit of assets have been sold…our services are crumbling…THE FUTURE IS VERY BLEAK…Brexit!
Leave a comment
You must be logged in to post a comment.
Categories
Posts by Date
August 2022
M
T
W
T
F
S
S
« Apr
1
2
3
4
5
6
7
8
9
10
11
12
13
14
15
16
17
18
19
20
21
22
23
24
25
26
27
28
29
30
31
Blogroll