WALL STREET JOURNAL April 1975…….Headline was 'Goodbye, Great Britain `
I have been bearish on Sterling for quite a while now. My latest recommendation to trade was in the late June blog UK OK? I Think Not… where I recommended buying Sterling/Dollar (Cable) put options. Luckily, Sterling peaked a week later around £/$ 1.72. I have on several occasions expressed my concern that Cable could retest its all time low of £/$ 1.085. My reasoning has been outlined in many blogs on the subject but the significant fall in Oil is just the catalyst to push on what I believe is an open door. The UK is not likely to reduce its annual budget deficit, which is running around £100bn, anytime soon. The Oil price will, if anything, reduce tax take significantly. With the production cost of North Sea around $55 it is possible that the £8bn direct profits tax take will be eliminated. The significantly lower price at the pumps will reduce the excise duties which as a percentage of price account for a significant slug of the final forecourt retail price. Yes, consumption of other VAT items may see increased demand but this is unlikely to offset fully. Salaries in the energy sector are already being cut this month. With nearly 500,000 workers exposed to this sector, the positives for consumption will be offset. So the budget deficit will continue at vastly elevated levels. On the trade front, the governments focus on reflating the economy by encouraging consumption, is a complete folly which only serves overseas suppliers with a boost to demand. Our previous currency calamities have been focused around poor trade performance. In 1948 a deficit (albeit only 2%) was too much for the government finance and Sterling fell dramatically from £/$ 4.20 to £/$ 2.80….this lead to a revival of manufacturing to its zenith. In the sixties (1967), the Labour government devalued the £ from £/$ 2.80 to £/$ 2.40 due to the drop in exports from a protracted dock strike coupled with middle east tensions. In 1964 when the trade deficit rose unexpectedly the Labour government went cap in hand to the G10 for a loan. Had they acted quicker to rebalance the economy the crisis to follow may have been averted.  In the seventies, the balance of payments were sent into shock by the Oil crisis. Eventually the UK would have to go cap in hand to the IMF for a loan. Prior to the loan £/$ dropped from 2.40 to 1.60. During the eighties, Thatchers battle with the unions lead to a significant fall in industrial activity and economic turmoil. In 1985 the currency hit its all time low of £/$ 1.085. Eventually, her economic formula worked and the economy recovered. It was however, the start of a long terminal decline in our manufacturing capabilities. No government since has taken this sector seriously, instead they have preferred to encourage consumer debt which in turn boosted house prices significantly which in turn drove consumption even higher. Gordon Brown took this to the all time high encouraging consumption as the mainstay of his economic miracle. From around 7.5 million people in the 1930`s, manufacturing is now a small part player in the make up of our total output. Since Thatcher, the UK has sold off a large portion of its assets. Whether it be utility companies or real estate, its been a huge sell off. Couple that with around £1 trillion of Oil taxation (both direct and indirect) and you can see the consumption bloom was finance by various short term cash injections. To make things worse, the financing of long term investments like schools and hospitals were financed off balance sheet via PFI (£240bn) only to cost a fortune over the next 30 years. University reforms have kicked massive liabilities into the future and the public sector pension scheme is in a perilous position with all liabilities also kicked into the future.
In short, the UK has lived off its income from past wealth. It has deferred costs and has mortgaged the future. Below is a chart from my blog in November 2012. We cannot continue to live like this. Employment is not growing in productive industries. The driver of lower unemployment is consumption based service sector. Eventually questions will be asked of our economic performance and the coalition will be found wanting.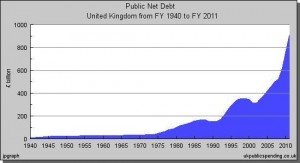 This official measure of debt does not include all the off balance sheet funding liabilities which have grown substantially this millennium.
In 1997 Gordon Brown began his consumer lead socialist economy…we have to reverse this decline in our trade balance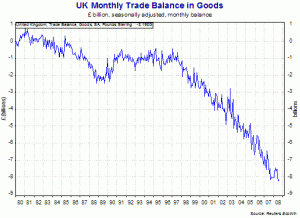 If Cable breaks the 1.40 support line, the next stop is 1.085…Inflation will become a problem offsetting the strong global deflation winds blowing around.
Click to enlarge…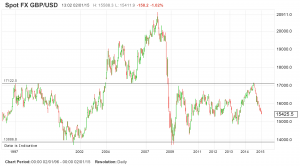 Post war Cable. Following the 1948 devaluation, exports bloomed and we reached a surplus around 10% of GDP. Since then, the rest of the world has beaten us at the production game. Instead of using design, research and investment  to continue strong manufacturing (like Germany) we have rested on our laurels. This is going to cost us dear as a nation.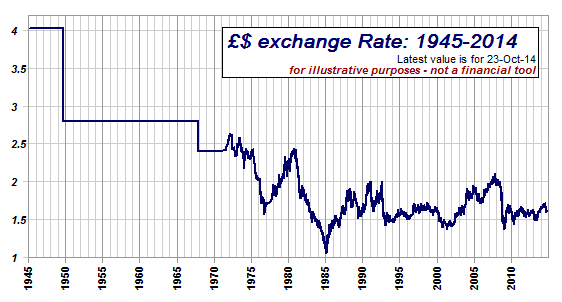 Politicians have taken the easier short term gains and to hell with the future. Our children will inherit a very sad state of affairs.
Leave a comment
You must be logged in to post a comment.
Categories
Posts by Date
December 2021
M
T
W
T
F
S
S
« Apr
1
2
3
4
5
6
7
8
9
10
11
12
13
14
15
16
17
18
19
20
21
22
23
24
25
26
27
28
29
30
31
Blogroll