No blogs since Feb. It has been a very hectic year (so far) with a daughters wedding (another one in October) and the usual spring rush for Landscaping. On top of that, I have fought and won an election to become a Councillor in London…So lets take stock of where we are…ooh, that will be no change. Central banks still pumping money into the system and final demand not growing sufficient to allow the world escape trajectory in economic terms. The gravitational pull of debt will not diminish. Unless, of course, you do the old fashioned thing and allow the system to purge bad debts, allowing weak banks and companies to fail.
So, to review previous blogs with what's happening today.
UK…I cannot for the life of me, understand all the well paid economist in the City. They fawn over George Osborne and his economic growth like babes to the slaughter. A reduction of a billion or two (£) in our annual budget deficit is vaulted as good housekeeping. I was tempted to say "Bollox is it!" but thought better of it now I am a Councillor. The real truth of the matter is that government spending is still growing. 2013 saw government expenditure rise £9bn to £640. That figure would have been far higher had QE not lent a hand and reduced the interest burden see Osborne good fortune finances by Pensioners and Savers. The truth is, without government spending, both directly (capital spending +51% in May vs 2013) or indirectly (via help to buy g`tees for houses) this economy would be on its knees. Why? Our trade deficit, namely exports, is a good place to start. Excluding cars (driven by cheap debt/lease deals) our traditional industries are struggling. Capital goods, Chemicals and Semi-finished all saw contraction last month in the region of 4%. This is not a blip but a continuation, if accelerated, of the long term trend.  Due to our debt fuelled housing boom, imports are not so subdued. Three areas of trade deficit really stand out and explain why reduced unemployment has not raised tax revenue. We have £27bn deficit in Electrical Machinery, £10bn in non-car Road Vehicles  eg Lorries and Construction and a £6bn deficit in Mechanical Machinery. These are the biggest elements of our trade imbalance. So tell me why you would inflate the very sector that's reliant on our weakest industrial ability to supply. If you look at these sectors, it is striking that they tend to be heavy industries with large employment and reliant on even heavier industries eg steel which is an even larger user of semi-skilled labour. These are exactly the industries the UK is crying out for. I have said all this before. The lack of meaningful reduction in our deficit despite headline gains in GDP and Employment are simple to explain. I did warn of this in Jan 2013 with GDP vs Employment Growth. In a nut shell, two things are happening. Poor quality low paid jobs are being created and a large proportion of the unemployed and disability benefit claimants (who have declared they have found a job) were already working. The problem now is, they are registered as active but with no gain to output. This is why productivity has been so poor. Financially, its a negative for the exchequer. They earn so little so as to pay very low tax but they now qualify for income support.
Overall, taxation receipts have grown in VAT and Stamp Duty (Land/Shares) but not Income related. With house prices elevated to crazy multiples of average salary, the outlook for further annual deficit reductions look grim. Remember this, at the turn of the century, our National Debt was around £350bn. It is now close to £1,300bn and growing by over £100bn per annum. Relying on smoke and mirrors to grow the economy will only put us further in debt and extend our trade deficit. Hence, my recommendation for a trade below. Timing is everything and going into the summer brake options are very cheap. FX volatility is at 25 year lows. This is not surprising given the similar low volume and volatility being registered in Equities. Something I warned of in May 2013 "Is Stephen King a Plagiarist"
TRADE
Sterling (£) has had a honeymoon period on all the growth and employment ballyhoo. I believe the truth will out and soon. I will be buying the September $/£ 1.64 puts on Monday. The cost is miniscule as volatility is soooo low. It will buy me the right to be short  Sterling at 1.64 up to the contract expiry on the 17 September 2014. A meaningful break above the 2009 high of 1.7050 would test the 2005 low around 1.72. Should it brake higher, our trade deficit would boom still further. And, of course, I would loose the premium I paid to sell at a lower level.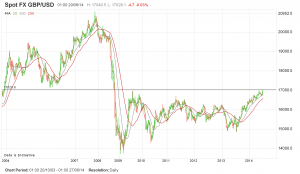 My next updates will be on my old favourite CHINA…Its plunging real-estate industry and the sharp fall in Iron-Ore. Commodity fraud on a huge scale involving Copper, Ali and Gold……Five year low for its equity market and my often used belief that they are a cancer on world stability (industrially speaking)…I have said all along, they are investing to employ not for ROC. The workforce is shrinking 3 million per annum and migrants and wage growth are down 50%
Then…Japan, where spending by households is down 8% and not surprising given 23 unbroken months of wage deflation and price rises of 11% in Electricity, 10% in Petrol and 14% in fresh Sea Food…all this with a shrinking working population and debt to GDP of 230%…MY NEXT TRADE will once again be shorting the Yen. More of that when it gets to around $/Y 100.80
Leave a comment
You must be logged in to post a comment.
Categories
Posts by Date
October 2021
M
T
W
T
F
S
S
« Apr
1
2
3
4
5
6
7
8
9
10
11
12
13
14
15
16
17
18
19
20
21
22
23
24
25
26
27
28
29
30
31
Blogroll