I have been spurred to write today following yesterdays speech by President Obama in which he called for action to alleviate the `Profound Inequality in America`…I make no apology in re-publishing my blog AMERICA: THE HOME OF THE FREE?…NO,THE HOME OF THE FOOL!  repeated at the end of blog.
HORAY…At last the problem is starting to get recognised as significant for the majority of the population. Whilst Wall Street grows ever richer on the generosity of the wider populace (Bank bailouts and QE) the majority are facing a bleak future. I believe the end is nigh for the Dollar as the Global Reserve Currency. If not, it will end up like the British Pound at the end of its dominant period. The adjustment after that was very painful. China, as I have stated in the past, is an economic cancer on the rest of the world. I have said on many occasions that the level of productive investment in China is driven by need to employ (people) not the need to employ capital for profit. Regular readers will know that this has been one of my reasons to expect Global Deflation and just out of interest, todays article in the Daily Telegraph highlights some of my concerns.
http://www.telegraph.co.uk/finance/comment/ambroseevans_pritchard/10495902/Europe-repeating-all-the-errors-of-Japan-as-deflation-draws-closer.html
Unemployment figures are being heralded by Wall Street as signs of growing prosperity. As I have pointed out on several occasions, poor quality jobs with low pay will not cure Americas ills (nor the UK for that matter) The recent data on spending (to date) in the festive season highlights that employment growth is not the focus. The real focus should be on the Participation Rate (which stands at a the lowest percentage of population since before Ronald Regan)  and the GINI COEFFICIENT.
The participation rate, or the percentage of people actively in employment, peaked at the beginning of the millennium and then began its fall. The decline accelerated following the financial crash and has not stopped. Several factors are at play here. The most important being the loss of manufacturing jobs. Then Demographics, with the baby boomers coming of age (retirement that is) and lets not forget Disability. This group of people now stands at 8.8 million which has curiously doubled since 1995.
I will not go on about Gini Coefficient suffice to say it is a globally recognised barometer of the distribution of wealth…America sucks! All Americans (the poorer majority that is) should go to their elected official (who will be wearing a great suit and probably an expensive watch) and demand to know what he doing about the GINI! He will be too busy counting his money to give a damn about you.
It is clear that QE has done nothing other than put more money in the hands of the wealthy. The real problem for America is having the Chinese currency loosely pegged to the Dollar. How can a mature economic country with massive financial and trade imbalances expect to keep pace with a dynamic (and second biggest in the world) economy growing at around 8%. The answer is it cant.
If this nose dive is to be reversed it is not via a hike in minimum wage, that will make it worse, it needs to be fed by America making more of what it uses eg shrinking its trade deficit. This way jobs will become more abundant and wages will rise accordingly. YES!…That means upsetting the Chinese…and maybe the Germans for that matter but see my next blog which will expand on Kurzarbeit achieved where Blitzkrieg Failed and The Elephant in the Room (2 earlier blogs)
WHY!!! Should ordinary Americans see their living standards fall back to the 1970`s just to let China move 20 million people (a year) out of the paddy fields into new apartments. It seems crazy to me. The simple truth is that China is growing far faster than its restricted currency is implying. A realignment is required where by the Yuan would appreciate rapidly. Whilst the implications in the financial markets might be adverse in the initial stages (slower Chinese growth) longer term it would help to balance prosperity. The world has too much cheap capital as a result of QE. This has lead to far too much output capacity investment which will eventually lead to Global Deflation. We need to bite the bullet now and re-balance the worlds economy at a lower level that today but one that is fair to all. Otherwise, the simple truth is that history will repeat itself and the disaffected will take matters into their own hands…
YOU HAVE BEEN WARNED!
BELOW IS REPEAT OF EARLIER BLOG…………………………………………
I am very sorry if this headline has upset my American friends and relatives. Having worked for many US companies (Conti-Commodities, Refco, Merrill Lynch, Chase Manhattan and Lehman Bros.) I can safely say I have had the pleasure of working with and meeting many wonderful people. That will not, however, stop me from saying:
YOU STUPID AMERICANS!……..At least 80% of you.
Of course the headline is a bit sensational but I feel the majority of Americans really do need to wake up and smell the coffee.
I will start with the visuals, then explain. Firstly, a chart of US Govt. debt build from 1942 used in blog Economic Seismic Shift, November 2012. Secondly, a link which has some revealing information on the US economic data. Third, inflation adjusted version of the first chart, and finally, the wonderfully visual and informative US Debt Clock.
Item 1)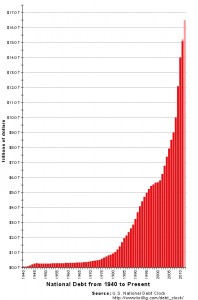 Item 2)
http://xkcd.com/980/huge/#x=-6416&y=-8544&z=2
Item 3)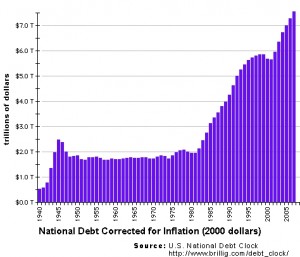 Item 4)  http://www.usdebtclock.org/index.html
So, why such a downer on Americans. I have been involved in American Economics (not professionally) since the 1970`s.  I first travelled (on business) to New York and Chicago in  1982 when poverty was evident.  I cant help but feel "That the actions taken in the name of the American people by the American people on behalf of the American people, have only benefitted a few American people"
So this report of Lincolns Gettysburg Address (yes, sorry but its from Wickedpedia) is at the heart of my argument.
Abraham Lincoln's carefully crafted address, secondary to other presentations that day, came to be regarded as one of the greatest speeches in American history. In just over two minutes, Lincoln reiterated the principles of human equality espoused by the  Declaration of Independence and proclaimed the Civil War as a struggle for the preservation of the Union sundered by the secession crisis with a new birth of freedom that would bring true equality to all of its citizens. Lincoln also redefined the Civil War as a struggle not just for the union, but also for the principle of human equality.
If you look at Item 1, you will see that since the mid-late 1970`s government spending has grown dramatically. Yes, inflation at that time was an influence (Oil crisis) but the seed was set for ever grater peaks. More Importantly Item 3 shows how debt has risen dramatically inflation adjusted. Between 1947 and 1979 the top 1% earners accounted for 7.3% of total national income. From 1979 to 2006 the rate rose to 13.6% (of total national income).Today, it is believed that figure is closer to 25%. I am making a direct link between earnings growth of the top people in America and the acceleration of nation debt. When you bear in mind that the people making the decisions,  both politically and economically, to raise debt aggressively, are (most probably) in that top 1% then it starts to look wrong. Consider these facts:
1% of Americans own 40% of overall wealth and 50% of all Equity, Bond and Mutual Fund Assets.
400 Richest people have more than the combined wealth of the poorest 50% see Quantitative Easing
The poorest 40% have no discernible wealth.
80% of the population only accounts for 7% of total wealth.
In 1965 the average hourly earnings (inflation adjusted) of a production worker was $19.61 and today the  rate is only $19.71.
In 1965 the average hourly earnings (inflation adjusted) of a CEO was $490.31 and today the rate is $ 5,419.97
The last two points are taken from Item 2. If you click on the link and zoom you can navigate around finding these facts in the dark green section. I have no reason to doubt the author as it has a comprehensive reference.
In the name of the population, America has now borrowed $17.1 Trillion. That is now $53,000 per citizen. Of course both those numbers are increasing rapidly, see Item 4. To highlight significant growth in debt per citizen, in 2000 it was only $20,000. So the top 1% hit the credit card of all Americans to the tune of $53,000. The trouble is, the bottom 40% have never really benefitted from that spending. 125 million people have no wealth but are on the hook for $7.2 Trillion. The next 40% up the wealth league are not much better off and collectively they owe $14.4 Trillion.
What has all this debt bought the American citizens as a whole. That is forgetting massive wealth for the few.
Amongst its Economic peers the USA (x China)
has the lowest life expectancy
highest infant mortality
spends highest % of GDP on healthcare
is the only country not to have Universal Health Care (pre Obamacare??)
Amongst OECD members
highest income inequality
highest poverty
child poverty twice the average
also
17th in Education table of 40 most developed countries
down 10 places in 30 years
only 6% performed at advanced level placing it 31st out of 56 nations
annual investment differential (per pupil) between most and least selective colleges in 1967 $13,500 (adjusted) and today it is $80,000
wealthy students outperformance over poorest is the highest in the developed world
Food stamps are now used by 48,000,000 vs 28,000,000 in 2008.
Since 1965, employer benefits most notably in Health and Pension have been significantly eroded.
for a brief moment in 1928 inequality was higher…hhhmmmnnn
I know it sounds offensive and it is not meant that way but…if the wealthy put chains around the ankles of the poorest 40% and taught them the words to old man river. They could sing it whilst they were contemplating just what Abraham Lincoln meant when he claimed victory brought a new birth of freedom that would bring true equality to all of its citizens. Maybe the real losers in the Civil War were the slaves. At least they could dream one day that rightful freedom would be granted. What dreams have the poor Americans got today. Not only have they poor education and health but they are also being used to borrow money to benefit the rich. The Federal reserve should all be taken out and put against a wall. They above all in the financial world have been responsible for allowing this unfair system to go on. QE as I have highlighted before, is passing more wealth to the few. These people are likely to bid up Art and other assets which help show off the individuals ranking in the top tier. It does not transfer directly to consumption for all. Politicians of all sides of the spectrum should hang their collective heads in shame. Whilst they have grown fat on the corn of increased spending, they have allowed jobs of the working class to be shipped to China (etc) so that the owners and senior employees can share in the bottom line profit improvements it allowed. The big mistake (yes, with hindsight) was to not invest heavily in the wider nations education, allowing people who would normally have aspired to a full time blue collar job, be more in tune with the modern world. Instead, politicians, influenced heavily by industry, kept the consumer stuffed with borrowed dollars so he could keep the profits rolling. If this borrowing was kept in check (the world over) people would not have become so throw away, growth would have been much slower and more importantly, balanced.
I can only refer to this shift in wealth as theft. Probably the greatest Sting of all time. How will it all end?
"America will never be destroyed from the outside. If we falter and lose our freedoms, it will be  because we destroyed ourselves" Abraham Lincoln
http://www.upworthy.com/9-out-of-10-americans-are-completely-wrong-about-this-mind-blowing-fact-2?g=6
Leave a comment
You must be logged in to post a comment.
Categories
Posts by Date
October 2021
M
T
W
T
F
S
S
« Apr
1
2
3
4
5
6
7
8
9
10
11
12
13
14
15
16
17
18
19
20
21
22
23
24
25
26
27
28
29
30
31
Blogroll