I know its a crass headline but hey ho… ho ho ho.
Update on the previous blog re Dollar/Yen exchange rate.
If anyone was brave enough to follow my idea, may I make another suggestion. The option I suggested buying, the $/Y 102 call at 20 pips or basis points, is now trading at 100 basis points. Hence a 400% gain in less than one month. Whoppeeee it has helped pay for my daughters 21st party. As I need the money I have taken some chips off the table. I still fear however, that Japan is on a collision course with Economageddon. I still expect the five year low for the $/Yen (103.73) to be reached (and breached to test the 1998 downtrend: see last blog)  but time is running out with these options and breaching a five year high may take a while. The expiry is 18th December and with less than three weeks left, I have taken out some protection. I have sold (or written to give it its correct term) the 103 calls which are trading around 50 basis points. Hence, if the momentum is lost here and no further gains are made (in $/Y) then at least I collect all the premium from the 103 calls which will expire at zero. Sounds complicated but believe me with a little explanation it is quite easy. I would be more than happy to elaborate to any subscribers if required.
It is worth noting that the Yen has been far weaker against the Euro, falling 50% in 18 months. Yes! 50%…and 40% against Sterling. So when I say that the Nikkei Index will be above the Dow soon, it makes some sense. Additionally, when as I have said in previous blogs regarding Japan, they are exporting their deflation, again it makes sense.
UK…The Great Lie.
You cannot be serious, I am referring to all those very highly paid economists who walk around swanky streets with their head wedged firmly up their fundamental orifice. If they looked around the country, they will see that it is only debt fuelled demand that is driving our economy. In the recent 3Q GDP data much heralded by one and all, the most important element was the 2.5% fall in exports.  So much for re-balancing the economy away from Gordon buffoons appalling economic model. The trade deficit can only widen still further from here on in and that is no good prospect (other than for those lucky overseas companies who are selling happily into our debt binge).
Because of all these dum-fuchs speaking of the economic upswing with reverence, Sterling has this week broken out of its 5 year downtrend against the Dollar. Little seems to stand in its way of reaching $/£ 1.70. I would caution (as you would expect of a debt perma bear on the UK) that this glorious new found optimism is just digging us deeper into the mire. So, I have no option but to abandoned my idea that Sterling will fall in the short term. However, my long term goal (often mentioned in previous blogs)  of Sterling testing the all time low against the Dollar (1.08 ish) is still firmly my expectation. To that end I have scraped the barrel with a very long term chart which I feel shows the growth of a vague head and shoulders going back to 1996. This confirms 1.70 as a massive resistance. Maybe by then this crazy accretive currency will finally kill off any hope of a recovery in Manufacturing we so desperately need. If you were wondering how Sterling was doing against other trading partners, take a look at the other charts below.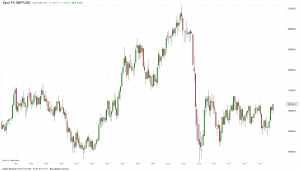 This is Sterling Yen. Just imagine how much harder it is becoming for companies like JCB to compete or for Whiskey companies for that matter (anyone for independence?) I could go on.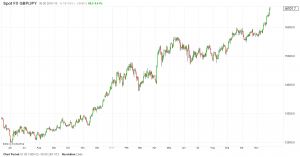 Even against the Euro things are getting tougher. The huge benefit exporters got at the beginning of the year are steadily being taken away. British prices have got 5% dearer in currency terms since August.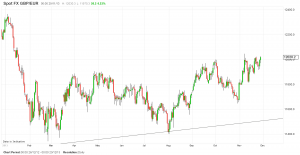 Do not expect our Manufacturing Industry to be able to compete in this environment. All the heavy lifting of the British economy will have to be done with Government and Private debt. Sound familiar????
YOU HAVE BEEN WARNED!
Leave a comment
You must be logged in to post a comment.
Categories
Posts by Date
April 2020
M
T
W
T
F
S
S
« Feb
1
2
3
4
5
6
7
8
9
10
11
12
13
14
15
16
17
18
19
20
21
22
23
24
25
26
27
28
29
30
Blogroll