Japan and Yen update.
Regular readers will know I have been negative on Japan for a long time. Having called the Yen decline in September 2012, I now believe the second and more meaningful breakdown of the currency is around the corner. The first chart highlights the narrowing pattern developed since the mid 2013 low point (high for $) of £/Y 103.7. The breakout of the higher or lower lines could lead to a significant shift. If 97 is broken on the downside, against my expectation, a return to significant Yen strength would see the Nikkei equity index fall sharply. If, as I expect, 99 is broken on the upside (Yen weakness) the second long term chart comes into play. The $/Yen would likely test the May high of 103.7 which if breached would lead to a move to the 1998 downtrend. This is where I will try and explain why I think that will be breached and the Yen will fall by a further 10% from there. To try and capture this movement the $/Yen 102 calls which expire December 18th are worth a look. They are currently trading around 20 pips. If the move does not occur you loose 20 pips. If it does, you are in for the ride at 102.20.
Chart A) Short Term $/Yen Sept 2012-Nov 2013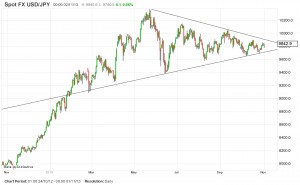 Chart 2) Long Term $/Yen 1996-2013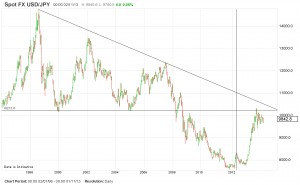 Why so negative?
I believe the ratings agencies may downgrade the nations debt before the end of the year. The planned tax hike due to be implemented in April 2014 will weigh very heavily on what is a weak consumer backdrop. I still believe this (tax) will not go ahead as planned. To sweeten the passage of this tax, which is expected to raise an extra Y8 Trillion, the government has announced a Y5 Trillion stimulus to help the economy. The debt profile of Japan is well known. It makes Greece look well run!
Lets remind ourselves of the position:
Total Debt is 500% vs 370% in USA
By 2018 gross debt will be 295% of GDP (higher than the UK crisis peak of 250% in 1815 and 1945)
Net debt will be 190%
50% of total spending is borrowed new money
25% of tax revenues go to debt interest with rates at near zero
25% of all bank assets are in government bonds (JGBs)
equals 900% of tier 1 capital vs 25% UK banks (Gilts) and 100% US banks (Treasuries)
I have highlighted above, a very important fact. With interest rates at near zero, the government is funding at very attractive rates. However, with debt still growing rapidly (c 8-10%GDP) the fact that a quarter of tax revenue is spent on interest, it is not difficult to imagine how, with rates near zero, a higher rate scenario could completely overwhelm the countries finances. Of course, current QE will not let that happen. The 20% devaluation of the Yen in the past twelve months has helped the economic backdrop. Exports up 11.5% in September was the recent headline. Look a little closer and you will find that yes, in value terms they were up. However, in volume terms, they were down 4.4%.
The return to wage growth ( September 2013 vs 2012) was seen as significant. I cant help but feel that the 0.1% increase will do little to offset the sharp increase in energy related costs being heaped on the consumer because of the Yen decline. With continued declines in disposable incomes, the proposed tax increase will be a bitter pill for consumption to swallow. Exports are the only straw that Japan can cling too. Recent export figures from the continent (Asia) are not promising. China exports to SE Asia are at a 17 month low whilst Taiwan and Korea are reporting declines. The Japan time bomb is ticking!!
Coming Soon……Update on my call for Global Deflation  and A review of my bearish 18 month stance on Volvo and other Scandi plays
Leave a comment
You must be logged in to post a comment.
Categories
Posts by Date
April 2020
M
T
W
T
F
S
S
« Feb
1
2
3
4
5
6
7
8
9
10
11
12
13
14
15
16
17
18
19
20
21
22
23
24
25
26
27
28
29
30
Blogroll