Shanghai Containerised Freight Index (SCFI)…(An indication of the shipping cost of a 20ft Container)
It appears all is not what it seems in trade. Over the past six weeks, the SCFI (Shanghai to Northern Europe component) has fallen 36% (10%last week) and is now 21% below the corresponding period in 2012. The Mediterranean Ports have not faired any better with a 33% six week and 19% year on year, decline.
The same applies to the USA. Shanghai to the West Coast is 30% below 2012 with the East Coast down 16%.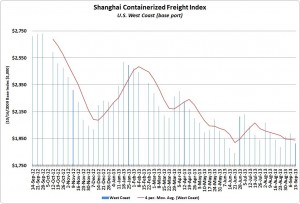 Now of course this is a complex issue. The glut of vessels is nothing new and something I have written about on many occasions. It cannot only be an oversupply of transport, volume must come into the equation somewhere. I get a sneaky feeling that the forth quarter may be an interesting one when it comes to earnings. For now, this decline in demand for transportation has to ring some alarm bells. China is using its financial mussel in order to secure new shipbuilding orders for its vastly oversized industry. Whilst they mutter about merging some yards and maybe shutting others, the plain fact is (just as in the other heavy industries in China. Aluminium, Steel etc) the overwhelming urge to keep the people in work has drowned out any commercial economic considerations.
China raised its capital spending dramatically in June and July with house building and railway lines seeing significant investment. For now, it has reduced the huge industrial material inventory which was building beyond sustainable levels. Steel production was maintained or even increased by some allowing Iron Ore to rally. These investments are reducing the raw material inventory but  increasing the stock of un-sold real estate (most of which is priced at 20 times annual earnings…very rough guide) and in totally under used rail infrastructure. Eventually something will have to give. Wage growth of 20% per annum has underpinned the valuation of real estate. Wages going forward, in my opinion, will start to reflect the weakening profit picture in China. Tens of millions of un-sold overpriced property could spell disaster if they fail to keep all the balls in the air. I cannot help but think this is just another piece in my Global Deflation theory that I started in June.
If the oversupply builds to a point where finally common sense is applied, the consequences would be catastrophic for some industries and countries. Over the last two years I have berated Lucky Jim O`Niell and the BRIC economies. Given the huge decline in their fortunes over that period you might begin to think that the recent emerging markets rally has legs. One of the major consequences of any pullback would be a collapse in the Iron Ore price to around $40…yes $40, below even the cheapest of suppliers production cost. Previous blogs have given the price charts going back many years together with the countries and companies who have gained the most. Briefly though, Austarlia and Brazil would implode. Shipping companies (Maersk is the biggest but Greeks big in Iron Ore) would collapse wholesale and a few Scandi, German and British Banks would need major help not to mention problems for the largest shipping builders China, Sth Korea and Japan. Steel companies are already priced at 20 year lows so some may survive. Global Deflation would follow with Oil at $30-40. The suppliers to the Mining/Drilling Industry, mentioned all too frequently in my blogs, would have to be rescued. Sweden, which has a massive exposure to this field would be in a mess. As for Green Industries, made to look very expensive. British Government, well they have ben making fools of them and us for so long it would probably go un-noticed (Green Policy).
The problems some companies would face will be greatly exaggerated because the Investment Bonkers have encouraged them to shrink their balance sheet (capital) via share buy backs. Great for the Bankers income but when losses for companies start to accrue, the loss per share from such a big business with a shrunken capital base, will be startling. Share prices for all will collapse but more so for the biggest buy back companies. Deflation will be the result…hey ho…Its being so happy that keeps me going.
Below, me and the `Old Duchess` all dressed up to celebrate our 29th Wedding Anniversary
Tomorrow morning, off to the Olympic White Water course with my old pal Barry…who is not as good as me…he he he he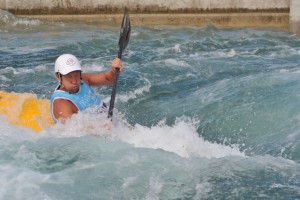 1 Comment to Shanghai to Europe Rate Drop Questions Chinese Export Claim.
[…] 20 years was centred around Housing, Railways and Heavy Industry. The problem is, as I explained in China and its Export Claim, the supply curve within all these aspects of growth had become overstretched. In normal developed […]

Chinese Deflation Cancer Spreads | Finance Reaper on August 19th, 2014
Leave a comment
You must be logged in to post a comment.
Categories
Posts by Date
December 2021
M
T
W
T
F
S
S
« Apr
1
2
3
4
5
6
7
8
9
10
11
12
13
14
15
16
17
18
19
20
21
22
23
24
25
26
27
28
29
30
31
Blogroll