Archive for October, 2013
Osborne Good Fortune Financed by Pensioners and Savers.
Lets look at the UK. Average Weekly Earnings for September 2013 are £ 474 which compares to £473 in September 2012. With Inflation running around 3% (far higher for pensioners and low paid) it must beg the question as to how Retail Sales have grown and house prices are up 4%. Are we really to believe the grinning Chancellor who talks of a turnaround in the economic fortunes and a lower Budget Deficit.
Lets look at some facts;
Provident Financial (Largest Doorstep Lender 130 yrs Old) Claims that more families are taking out short term loans (26%) and they are seeing an increase in late payments.
Foodbank usage up 300% on last year. 350,000 people fed by the Trussell Trust in the six months to September 2013.
Red Cross to distribute aid for the first time since WW2
Pawnbrokers… 650 in 2007 with 2250 today. Gold scrapped in 2006 10.7 tonnes but 70 tonnes in 2012 or $3.25bn.
Industrial Production is 1.5% lower than 2012.
UK Current A/C in Deficit for 30 yrs despite Sterling devaluation.
Gross Fixed Capital Formation (Gauge of investment vs consumption) at 14% by far the lowest in the OECD.
Industrial Output per hour worked lower vs 2012 and 2011.
Part Time working highest ever recorded.
Manufacturing only 11% of economy vs 25% in 1980
Car Sales booming but finance to buy is around 80% of sales vs norm of 54% with PPI pay-outs acting as deposits.
Government spending has increased throughout Osborne`s tenure.
UK Birth rate growth highest since 1972 whilst Germany has the lowest ever recorded and only 50% of 1964.
The UK Govt is spending £120bn a year more than it receives in tax. If that figure were zero, I believe the economy would contract by around 15%
So we have economic growth but we also have growing poverty. see Quantitative Easing. This is just as I forecast back at the beginning of 2012. Job creation but no deep rooted wealth creation. The jobs being created are (on the whole) very poor quality. Earnings growth is negligible so consumption has to be financed by a mixture of savings drawdown, debt and asset disposal. Asset disposal can be a mixture of Gold sales, Equity Release or Pension withdrawal. We need quality of economic output not quantity. Immigration has for some years helped to keep the quantity of growth from falling. With around 0.7% population growth each year you would expect some positive demand growth. This Government has not done what it promised which was to rebalance the economy away from consumption and back to manufacturing based output. Instead, it has used the QE benefits of lower interest rates to encourage further consumption. This will keep our Balance of Payments in deficit with imports continuing to flourish.  The large export orientated nations are not encouraging consumption, if anything they are doing the opposite. When will we learn that a continued imbalance between imports and exports will not help the quality of the economy.
So what of the UK Budget Deficit improvement. Lets not get carried away with a billion pounds here or there. The plain truth is that government is getting bigger. Bigger tax receipts and bigger spending. Tax receipts from consumption have increased driven by government polices on housing. Can the increase in house prices really be a positive to young families? How can they, with disposable incomes continuing to fall. Osborne is looking increasingly like Gordon Brown. Take what you can in the short term and let the long term implications be someone else's problem.
If it were not for QE the deficit would not be falling at all. With the UK debt growing by £120bn a year ( chart 1) you would expect the interest payable to be growing. Not so. The lower interest rate environment resulting from QE has saved the chancellor a fortune. The average rate applicable to the debt (chart 2) has dropped significantly. If you assumed that the rate (chart 3) is at least 1.5% lower than it should be (given the appalling state of fiancés and the current rate of inflation) then the chancellor is saving around £15bn a year. This would imply that the deficit is still growing. So the chancellor has saved all this money thanks to the Bank of England (and the Fed) but someone has to be loosing. Yes, my dear old pensioner, it is you! That to my mind is just another tax.
Chart 1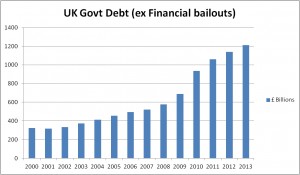 Chart 2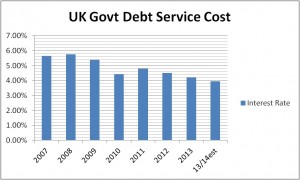 Chart 3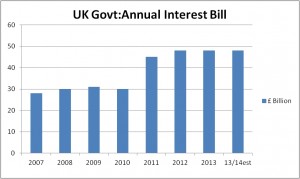 An update of a previous chart. This highlights the income via bonus payments held back prior to the reduction in top rate tax in April. The income tax data also includes Capital Gains which have no doubt been positively influenced by the FTSE 100. Yet more tax income for the government due to global QE. I have to conclude that Central Bankers are totally in cahoots with politicians. As I have stated before, QE should be linked to fiscal prudence guarantees from the various governments.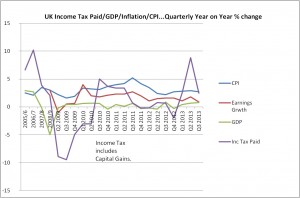 Categories
Posts by Date
Blogroll