Archive for June, 2013
As a side issue to the blog on Global Deflation, I have updated some charts on my pet bears. BHP, ArcelorMittal and Swedish Steel. Regular readers will know how negative I have been and today sees BHP getting close to the trap door with a close below £16.84 being the trigger. This is the double closing bottom established over 4 years. I am still firmly of the belief that Iron Ore will continue its downward path and re-test last years lows. Only this time, the bounce will not happen. Chinese Steel production must slow soon and slow dramatically. Time will tell. Lets not forget that Iron Ore was the key to the BRIC story (my theory)
Swedish Steel has made a new 10 year low today with Arcelor nearing its equivalent.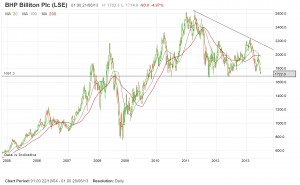 This is what happens to companies when China produces to employ, not to make money. This will become a familiar picture in many industries. The collapse of the Yen will only serve to do more harm to global players. Sweden is still on my watch list as a significant looser. see previous blogs on all these subject via the search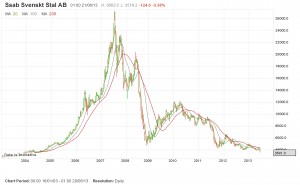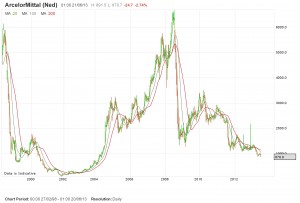 A Monster which is as rare as the one in  Loch Ness could be about to appear.
This is not a long winded formal blog, just a work in progress. I am growing increasingly concerned that the ingredients for this most disastrous of economic environments are coming together. I have spoken at length about the growing overcapacity of production in the industrial environment. My concerns have been centred on Steel and Shipbuilding. However, overcapacity exists in nearly every facet of the global economy. I have been a huge bear of the BRIC`s since this blog started (and Lucky JIM O`NEILL who coined the phrase) and this has been totally vindicated with their awful stock market performance.
The Japanese are now going to export the deflation bug which has gripped them for so long. 2014 sees the start of a significant rise in consumption tax which they believe will help the massive fiscal debt (235% 0f GDP) they have accumulated, DREAM ON!!!!
Global Consumption is the key to my concerns for Deflation. Developed world governments have only added to the debt pile which so spooked the world 4 years ago. Even in the UK, where the B of E  purchased a third of all government debt (accumulated since we started borrowing to fight Napoleon) the net debt less the QE (£375bn) is now back to where it was. This is because the QE was not linked to a long term solution like a huge cut in spending, it was merely a way of allowing the government to keep running annual deficits in excess of £120bn. George Osborne was wrong to claim the UK economy is back on an even keel. As I have stated before, government spending coupled with the huge uplift from the PPI scandal have kept our heads above water. These two factors are not foundations for a positive long term future.
China is lying about many of the aspects in its economy and this will come home to roost. I have stated before that its drive to create employment without any concerns for the economic consequences will act like a cancer on the developed world. Unemployment (or under employment ) is growing rapidly in the developed world. This together with wage deflation is a powerful element in my argument.
sorry, have to go the plant wholesalers (Rochfords) so I will continue later
Categories
Posts by Date
Blogroll