Archive for December, 2012
Xmas makes us all test our Capacity.
I know some of you have been pulling right little crackers while others have been enjoying spending time with a lovely game bird, but Finance-Reaper is always on the look out for interesting stories. Two that caught my eye last week provide fuel for my argument, regularly argued in this blog, that global over capacity in heavy industry will weigh on investment and growth for many years to come.
A Bloomberg story on the 21st…highlighted the growing problem in China of Digger Capacity. Companies involved from overseas include Caterpillar, Volvo and Komatsu.
1) Domestic and overseas players have built enough capacity (600,000) in China to supply nearly double the WORLDS annual demand (300,000). Whats more, inventories are enough to satisfy the entire 2013 domestic demand in China of 100,000 units. November saw the 19th straight decline in monthly sales. It is expected that incredible incentives currently being offered, together with the additional government spending on infrastructure, will halt this slide. Not, I expect, enough to alter the supply/demand dynamics that much. Most of this millennium has seen annual domestic sales growth of 25%. All that has changed this year and is unlikely to be seen again. Whilst it is a vast country and becoming a vast economy, I believe its dynamism is in the past. Wage growth, corruption and demographics, have put paid to that.
2) The Sec. General of the China Iron and Steel Association spoke at a conference last week and stated that the industry is facing an increasingly difficult time and capacity is increasing. No shit Sherlock! He went on the say that sales margins are -0.18% in 2012 and this is not helped by a further $65bn of fresh capital (+3.9% yoy) injected into the mainly state controlled sector this year. Whilst 2012 Steel output is expected to be 723million tonnes (+3% vs 2011) consumption will only be 679million tonnes (+1.8% vs 2012).
I cant help thinking that far from being the main driver of world demand and growth, it could actually become a festering sore. Throwing ever more capital into already over sized industries will only drive the need to export more. Recent statements from global steel companies bear this out. Jobs in the west are going to be cut still further. If China can produce twice the world demand for diggers, what will happen to other countries production facilities and profit margins. It is clear that Chinese investment is not based on return. It is driven by the need to get the peasants off the farms and into industrial production. This is not good in a world saddled with enormous state and private debt. Consumption cannot be driven fast enough to meet that supply. With interest rates at near zero and QE to the the left of me and QE to the right of me, well, here I am, stuck in the middle with you!
One other little indication of how China intends to deal with a glut of domestic production. 2013 will see the scrapping of the 40% export tax on Metallurgical coal (used in Steel making). This should allow them to regain their global dominance (in supply terms) which the tax, implemented in 2008 took away. Other main suppliers are Japan, Russia and the Ukraine.
Hope you are all enjoying the seasons festivities and that this little seasonal quickie has not given you indigestion. Remember, always look on the bright side of life. On that note I would remind you that the shortest daylight hour day is behind us and we are now on our way to a bright sunny spring. YYYEEEHHAAAA
The UK has got 3 months. Then time is up!
Back in December last year I started a series of UK blogs explaining why George Osborne will be in a worse financial position by now than he and the overpaid city analysts expected. Yes, sadly to say all the factors I alluded to are coming home to roost. Going forward they are going to get a lot worse, very rapidly. Following data released by Revenue and Customs on Thursday, it is clear that more is less when it comes to employment in this current environment. Tax paid by the highest earners is declining in both total and as a percentage of revenue. With last weeks Government budget data for November, it is clear the deterioration in finances is becoming apparent to all those who have been backing Mr Osborne`s policy of wishy washy austerity.
In the fiscal year to date Government receipts are £339.0bn down 0.1% on November 2011 (£339.3bn) and expenditure is £419bn up 2.7% (£408bn Nov 2011). This growth in expenditure would have been significantly higher if interest rates for Gilts were not so low. The interest bill this year is likely to be the same (£44bn) as in 2010/2011. The difference being, total outstanding Gilts then was £918bn where as it is now £1.113 Trillion. Whilst this is great for the government, it does show that spending excluding interest is way above expectations. Of course, this is a back door tax on pensioners who have been crucified by lower annuity rates as a result of lower bond yields. God forbid should/when interest rates ever go up again.
Chart One shows Government Income
whilst chart two shows expenditure.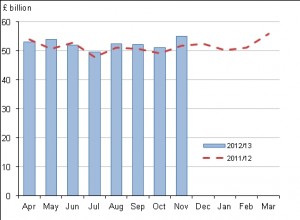 More importantly, the third chart shows expenditure excluding interest.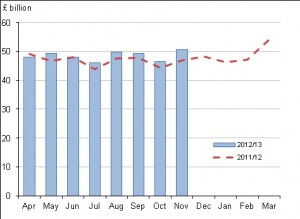 The significance of the obvious but subtle difference between the second and third chart is lower interest spending this year (£31.6bn year to date vs £33.7bn) is masking even greater structural spending which will be all the more difficult to reverse when interest rates go up. Where are tax revenues heading? Well, as I have said on many occasions, total income tax take is not growing despite a higher level of employment. The low quality job growth is reducing higher tax, no income support families, as a percentage of the workforce. This, coupled with higher taxation, both direct and in-direct, have had a downward affect on VAT receipts. Of course, annual salary increases lower than inflation impact still further. Consumption in the UK and wider Europe will fall this year as further tax hikes bite. see previous blogs on Shipping and Trucks…remember 90% all goods have been or have components, that have been, shipped.
The chart below highlights the plight of the consumer. It shows the Total Volume Growth of UK Retail Sales this millennium.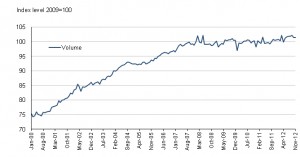 The lack of consumption in volume terms highlights why high street retailers are disappearing. The growing market share of Internet sales explains how the volume being sold on the high street is being funneled into large retailers who can afford rents in high footfall shopping centers. All this will eventually confirm my view that law changes will be put in place to allow vacant Retail/ Industrial/Office space to be converted into residential, thus being the supply element which will lower house prices 20%.
Be aware that the January 2013 Government Borrowing data (released 3rd week in Feb) is likely to be shocking. This is traditionally the biggest revenue month of the year. Advance and Final Income tax Payments swell the months (Income Tax) take to around £25bn with Corporation and Petroleum throwing in another £9bn. It is my belief that the shortfall will be in the region of ten percent. This will put the final nail in the coffin of wishy washy austerity and put the UK in direct conflict with the markets which have been very patient. I believe Sterling will bear the brunt.
see RIP George Osborne for my way out……..plus many previous blogs under the UK section of the menu highlighting my thoughts which have been consistent since the blog started.
I have been Bearish since 1999. How do I know that. It was then that I was the only employee of Lehman Brothers to opt out of the generous Direct Benefit Pension into a Direct Contribution pot of money under my control. I still have that pot which has had a positive return every year since. All those who remained were trampled on by the companies collapse. I had taken a negative stance on the management style but more importantly on the global economy which was being increasingly driven by government spending and loose monetary policy. None of that has changed. The four big Economies of the world (USA/Europe/China/Japan) are being held up by massive government spending. The level of spending above tax receipts is shocking and cannot continue. Three of those economies (x China) have existing Debt to GDP ratios which are unsustainable. So, to continue to stimulate consumption by spending more is not an option.
It is becoming clear that the global economy cannot consume at a rate which would help drive tax revenues for those governments to meet their future commitments. Central Banks have been using every trick in the book to help those politicians keep the debt illusion alive. They are all complicit in treating the electorate of those countries like fools. For it is they and their offspring who will have to meet the ever growing burden of this debt. The politicians  have ingratitude themselves with vast riches and on the whole do not live in the real world. This vast state sponsored global economy has to be drastically changed, sadly to do that, great pain will have to be felt by all.
Every time the central banks add to previous QE it is further vindication that being bearish on the economy has been correct. Being bearish on equities is another matter. Each bout of QE adds fresh impetus to the camp that says you must be invested because the bankers and politicians will win, eventually. The  charts below are updates of a regular series of data which I have published. My reasoning is well documented in previous blogs. The first chart is the now familiar BNSF traffic flow of various elements of economic activity. As this is the yearly comparison it is difficult to pick up recent trends. Hence chart two which shows the weekly change in volume growth since July for Containers and Freight Wagons. I think the direction speaks volumes. If you are in the camp that the fiscal cliff will be resolved quickly, what shape do you expect it to take. The $1trillion annual budget deficit that existed throughout the first Obama term must be cut. If it is not cut substantially the Debt to GDP and its growing servicing cost will just be kicked down the road until the next time. Whether it is spending cuts or tax increases, it matters not. The net affect will be to reduce economic activity. That would not be a problem if the other big economic powers were in good financial shape, but they are not. It is only a matter of  time before  Japan implodes in a sea of debt whilst Europe is adjusting to a new norm of significantly lower consumer activity.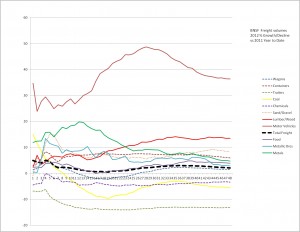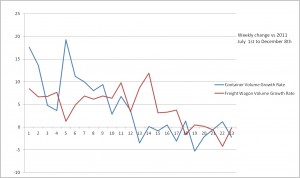 To highlight this shift to lower consumption I have regularly updated my Suez Canal data. The first chart is the simple total volume flowing through the canal.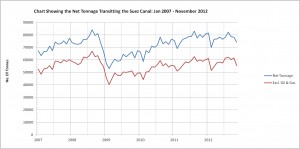 Secondly, the traffic growth in either direction.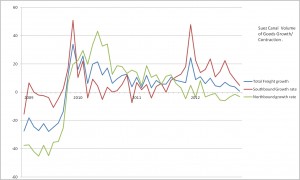 Finally, the growth in Container traffic. As I explained in previous blogs on the subject, containers tend to reflect the consumer sentiment as it reflects more on finished goods and blocks out the noise from the vast and volatile commodity sector. As you can see, the flow in the direction of China went negative for the first time since the big fiscal stimulus which created the 2009 updraft.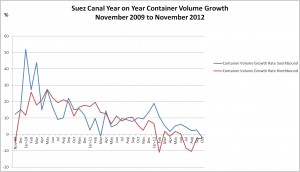 2013 will introduce many new austerity programmes apart from the fiscal cliff. In Europe these are just as negative. France will be pushing the boundaries of reality in its attempts to cut its budget deficit back to 3%. The scale of the spending cuts and tax increases will likely cause significant union and social unrest. The French are in a league of their own when it comes to protesting. Greece and Spain are amateurs when pitched against the cake eating peasants. Heavy industrial companies are coming under strong political pressure to protect jobs but in the end reality will prevail. The UK, SUBJECT OF MY NEXT BLOG, will be plunged into chaos as the budget deficit continues to deteriorate.
In this environment, company profits cannot increase. Despite strong balance sheets, the corporate sector has a chilling few years ahead. Most equity fund managers are overweight strong cash flow companies. Pricing power is about to become far weaker as consumers recoil from yet more austerity. Overcapacity is and will continue to be a major problem.
Shipping and Trucking, my two most frequently blogged subjects, will bear the brunt of this slowdown in global trade volume.
Categories
Posts by Date
Blogroll