Archive for September, 2012
Is the outcome of Ben III the same as doing Smoot-Hawley II?
I wonder if the weakness in the dollar following QE3 (plus the widely predicted further weakness) will indirectly have the same affect as the  1930 protectionist legislation Smoot-Hawley. As the US economy is still the largest in the world and overseas economies are struggling (with the effects of austerity/debt), any barrier to exporting to it (USA), be it legislative or economic, would have a significant negative global affect.
As Christmas is round the corner, I have put a new twist on one of Dickens most famous stories about a man who was a miser but was shown the errors of his way. My twist is to reverse the tale. Did you know Ebernezer Scrooge was  a real life vintner in Edinburgh c 1841. He was not a mean man but Dickens misread his headstone.
Ben-ezer Scrooge…
Cast in order of appearance:
Economy Past…` Big conn` Sue Merism,  Economy Present…Anee Mick,  Economy Future…Fiscalle Cliffe
Ben was tired, his children QE1 and 2 were not doing as they were told. His long arduous work trying to inflate the worlds biggest economy was not going well. After all, he had given his children so much money to spend, you think they would have made him proud by now. Parenthood!  Ben decided to take a little nap. He had only intended to close his eyes for a little while but his fatigue lead him to a deep slumber. "Hello Ben!" A loud voice boomed round his vast well lit office. Stirring slowly and through half opened eyes, he made out the figure of a bedraggled man. Unshaven and dirty with a gaunt look. His clothes were from another era. They were torn and hanging from what must have once been a strong frame. Startled, Ben quickly jumped to his feet. "Sit down," the eerie figure demanded. Ben hesitantly obeyed thinking security will be here soon. "Who are you and what do you want?" Ben asked.
"Jacob Marley, think of me as your conscience."
"What do you want?"
"I am going to take you on a journey in which you will be visited by three figures representing the economy of the past, present and future." At that point he vanished. Ben slumped in his chair but before he had a chance to make any sense of what just happened.  Whoooossshhhh! A flash of light and a plume of smoke filled the room which, when cleared, revealed a Bold, Brash, Arrogant figure. Ben once again enquired as to his identity. "Sue Merism but my friends call me Big Conn, I am here to review the economy past." The review centred around how central bankers and governments had such great times with much acclaim for the wonderfully successful work they had done as purveyors of debt.  Their policies had allowed and encouraged both governments and individuals to accumulate ever greater levels of debt. This spend, borrow, spend, borrow attitude has lead to a debt mountain. A mountain so big that from the top you can see all the way back to the asset bubbles of 1928. "I will leave you with one thought. When you give alcohol to an alcoholic he is extremely grateful, that is until the affects ware off. If you give him the help to reform, it will be a long and painful journey but one that will lead to stability and happiness." With this he too disappeared.
Once again Ben slumped back. Whooossshhh! Yes you guessed it, the ghost of economy present. "Who are you?"
"Aaahhh to be sure, I am Anee Mick and I will tell you why throwing large sums of money at the economy is not working any longer." Ben was furious.
"I have reduced the unemployment rate, restored growth and rescued the Banking Industry," he exclaimed.
"Oh really, you have done all that. Well if I had spent a few trillion dollars I would like to see something for it. " Anee went on to explain how Ben, the government and senior bankers have been blind to the reality of the wider economy. Creating a mass of poor quality jobs whilst piling ever greater debt levels on future generations is not the answer. They must stop kicking important decisions down the road in the hope they will resolve themselves. "I will leave you with one thought," he said  "The gulf between the haves and the have nots, is not in-elastic"… with this he disappeared.
I think you guessed whats next. Whhhoooossshh! This time the ghost of economic future. "Who are you?"
"I am Fiscalle Cliffe. I am here to tell you…" *cue sombre music*
"Tell me, tell me, how does it end?" Ben shouted.
"But surely you know Ben, after all you were a scholar at MIT and studied the Great Depression."
"But that does not mean that my unheralded approach to loose money is going to work."
"Quite, and to date you have only achieved asset inflation (which plays into the hands of the Austrian movement re the Great Depression) you have not helped the man on the street. You have made the rich richer and the poor poorer. " Ben was then shown a scene from the future. It was set in his office. The phone rang, it was the president, he explains to Ben that having spent $5trillion more than he received in tax during his term he had little to show for it. Ben told him not to worry and that he would launch his latest brainchild QE3 which will raise asset prices further. "Yeeeeehhhhhhhaaaaaaaaaaa!" exclaimed the president, "You da man Ben! If only we had one I would give you a knighthood, arise Sir Ben." Sadly, QE3 did not work. The world eventually collapsed into anarchy with the masses turning to revolution. Ben saw himself ridiculed as the orchestrator of the worlds downfall along with his counterpart at the European central bank.
Ben finally woke. Oh my God, what have I done? He thought. I am supposed to be the bastion of fiscal prudence It is not my job to create jobs in the US economy, after all I am an unelected official of the US Government. If the politicians can't create a long term positive economic environment, should I mortgage the country up to the hilt? without their prior approval. The best approach would be to recognise the mistakes of the past excesses and be honest with the electorate. The only way out is cold turkey. It is going to hurt but it will be worth it. Commodity prices will fall dramatically so deflation will need too be managed. Eventually, values and morals will be restored but not before much blood and tears are shed.
Nothing like a cheerful blog whilts listening to 'Sounds of the 1970s' on Radio 2. Its being so cheerful that keeps me going.
Hazard Warning Lights for Volvo, Scania and MAN (April 2012)… I wrote (back then and since) about my serious concern for the heavy truck industry at a time when the industry was talking of great things ahead in terms of sales. Just this week Paccar announced it expects third quarter (3Q) production to be 15-20% lower than the 2Q which is double the decline previously expected. August heavy truck sales in North America continued to indicate demand below total production. This leads me to a concern I raised back in March that at some point US inventory build would become a problem. The most recent data on Wholesale inventories confirms just that. The Inventory to Sales ratio is beginning to increase and of course with the fiscal cliff approaching this is not an ideal situation to be in. Overall industrial inventory data for last month is due soon. I believe this is becoming a global problem as consumption continues to struggle. Car dealers in China now have over 2 months of inventory on the forecourts vs half that last year. Hitachi Construction Machinery (Worlds 3rd biggest) announced that it will idle production at its China plant due to excessive inventory. This follows production cuts by  Caterpillar and Komatsu in the region. Everywhere you look in the heavy industry world, production is above demand. This is leading to the cancelling of upstream investment programmes as seen by the mining companies. Inventory of finished steel products at Chinese manufacturers is up to 12 days or +35% on 2011. This is on top of wholesale and final sale inventory outlets. The use of pre-registration cars to shift production is leading to a build up of nearly new cars in Europe too. With sales falling dramatically in the region as a whole, further production cuts will be forthcoming on top of Opel in Germany and the French manufacturers. The tonnage of ships being laid up is growing by the day and the Baltic Freight Index is now lower than the depths of 2008 and getting close to the all time low set in 1986.
In May I wrote Is Global Trade Growing? with the now familiar chart of trade flow via the Suez Canal. Below is an update which although on the face of it looks slightly more positive for Southbound (China) traffic, it is worth bearing in mind that total volume has fallen in the last quarter vs the corresponding year for the first time since late 2009.  The port of Shanghai handled 8% fewer Containers month on month in August which was down 7% year on year. Total cargo handled was down 15%. The southbound traffic data were influenced by a 100% uptick in fuel/energy products which masked a 50% month on month decline in the growth rate of containers, to only 2% (lowest growth rate since April)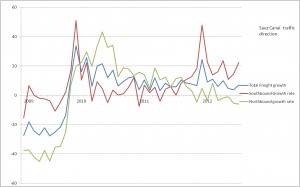 click on charts to expand
UK Commercial Property. I have been negative on this sector for the whole year. It was interesting to read the recent sector update by Savills highlighting the sector weakness in August. This is the forth month in a row of contracting activity and was the biggest monthly decline (-14.8%) since December 2011.
Japan. I am still short the Yen but my resolve was surely tested last night when it traded at 77.13 after the FED QE3 announcement. If it trades below 77.00 I am out and feeling considerably poorer and mighty stupid. I am still strongly of the opinion that it will suffer a fiscal cliff of its own. See my many previous blogs on the subject. The chart below gives the short term prospective but for a 40 year chart showing the Yen at 360 to the dollar in the 1970s, see my blog  January 25th  this year. I believe this could be the start of a 25% decline in the Yens fortune. Today the Finace Minister warned of headwinds for the economy and that the strong Yen was doing harm. You are not kidding!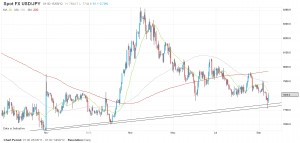 Sterling. I still believe it is only a matter of time before the markets realise that the UK is a busted flush. Once the Olympic dust has settled, unemployment will rise once again putting yet more upward pressure on the budget deficit. The UK Government must realise this softly softly approach to deficit reduction will not work in an environment of global austerity. Urgent action is needed to cut government spending circa 30% and reduce the corporate tax and red tape burden. If the narrowing band, which has been in place since 2009, should break 1.64. I will have egg on my face. Should it break 1.54 on the downside, I will be on the right path.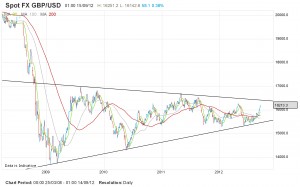 US Car Sales. I have been sceptical about the significant growth of sales which has been somewhat at odds with the lacklustre employment data. Having read a blog by James Quinn (senior Director of planning at a major University, he claims) some light has been shed on the matter. Sadly, his explanation is all rather familiar, sub-prime lending is now accountable for 45% of all car loans. As 77% of all new cars are financed it shows the quality of the customer. Loan duration is being extended ( beyond 5 years) and loan to value is rising reaching 110% on new cars and 127% on used. Not only that but 10% of all loans are categorized as `Deep Sub-Prime` eg a credit score requirement akin to that of Yogi Bear..OK BOO BOO faster than the average bear! Worryingly, consumer credit is back (net of the banking write offs) to an all time high. Has the FED really learnt no lessons. Pumping cheap money into banks who lend with no real concern. All this on top of the US Governments deficit which yesterday showed an $191bn August shortfall taking the 11 months of 2012 to $1.16 Trillion not far short of last year and around 7.2% of GDP. Some social spending was brought forward from next month so September should not be such a big surprise. Of course, when the government brings forward social spending it is just helping the retail data for that month to the detriment of the next. The cliff is getting nearer. Can you hear the waves yet?
Transportation and Steel
Today's release of the Swedish Purchasing Managers Report for August shows a really significant drop in one of the components. The New Orders element dropped from 51.2 in July to 41.1 in August. Why is this significant? Well, the economy in Sweden is very focused. Machinery,Transport and Equipment make up 44% of Exports and 40% of Imports. As transportation is a leading barometer of economic activity it is important to watch this sector closely when the global economy is so finely balanced. I have blogged several times about my concerns for Volvo and this most recent data, whilst not suggesting transportation was to blame for the decline, can only reflect badly on the sector due to its high proportion of GDP.
Interestingly, mining machinery manufacturers globally, have warned of slowing sales in the past two weeks. I have been talking of my concerns in this sector many times. Sweden is a leading player in this field Atlas Copco, Sandvik etc. What must not be forgotten of course is that this is the most Steel hungry industry group. Regular readers will know my major concerns in this field. See regular blogs on Iron Ore , Steel and BRICs and Lucky Jim Oneill
Categories
Posts by Date
Blogroll